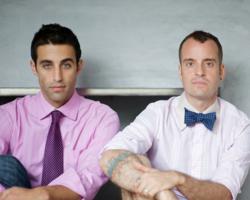 "When will we know we have compromised too much?" asks Joshua Rose.
"Will someone tell us?" adds Rafael Kalichstein.
Los Angeles, CA (PRWEB) April 30, 2013
The Architecture and Design A+D Museum of Los Angeles (5900 Wilshire Boulevard on LA's Museum Row) will once again open its doors to design aficionados on May 11th to celebrate the theme, "The Journey." The centerpiece of this evening will be a runway presentation of one-of-a-kind carry-on luggage pieces fabricated by the design luminaries who have newly interpreted this symbolic item through their creative lenses.
FORM designers Rafael Kalichstein and Joshua Rose will bring to this event their latest thought-provoking creation, an iPad-ready-carry-on. Sling this holster over your shoulder and you'll be clad in Moore and Giles metallic leather with exotic accents of ostrich leg and snakeskin (all bi-products of the food industry). Inspired by pistol holsters from WWII, this dual-sided-satchel keeps an iPad at the ready (and at the heart), pimping style, readying you for whatever comes your way.
This compelling work is, in part, a reflection on society: too often, we stop at the surface without examining a situation, a product, or a process more deeply for the sake of convenience, conscience, or cost. We fall prey to beautiful packaging--the product of big advertising--and don't question the ingredients within; we buy clothing from vendors that looks great and doesn't cost a fortune, only to find out those clothes were sewn by children in unsuitable conditions. FORM comments on this phenomenon through stark paradox by using only very expensive, luxurious, bold, and glamorous materials to beguile the observer set against the undertones of violence, war, and power that the holster suggests.
By collaborating with fine artist Cole Sternberg, FORM adds another level of depth to its bag. Sternberg has screen-printed over pink suede, which is used as lining, the words "One day," which message is as much of hope as it is of longing. It speaks as an acknowledgment of the now as much as it does of aspiration for the future. Additionally, they designed a custom made oxidized sterling silver charm, set with citrine and pink tourmaline gemstones. The charm was hand-crafted by Sevan Avakian of Sevan A Designs. Dig deeper and the gift within the gift is revealed: inscribed in the bag's interior is a message from Sarah Silverman --the incomparable dame of comedy--in her own hand: "Brave people don't try to take RIGHTS from others, y'all. – Love, Sarah Silverman."
The duo of FORM, known for their sometimes controversial and always unique creations, have designed this bold work of art to prompt the viewer to move beyond preconceptions and ask himself difficult questions. In addition to a sardonic comment on consumerism and societal values, this work also reflects on historical and current events, in which inequality and abuse of power have prevailed. These designers postulate: do the ends justify the means? Are we so willing to compromise integrity or give up freedom in an attempt to protect ourselves against a so-called threat?
"When will we know we have compromised too much?" asks Joshua Rose.
"Will someone tell us?" adds Rafael Kalichstein.
FORM names its piece, the "GLAMB Bag" as a play on the words "lamb" and "glamorous," to illustrate the juxtaposition within everyday life. "We are prone to looking no further than suits us, no further than the shiny exterior, no further than we are told to look. We are led, like lambs to slaughter, to give up our rights—inalienable though they were meant to be—in exchange for an intangible relief from whatever scares us," says the designers
The totality of FORM's carry-on sensation shows us that great design stems from the unencumbered artistic journey of ideas born into space without hindrance, judgment or censorship.
CELEBRATE is the Architecture and Design (A+D) Museum's annual fundraiser, each year attended by a who's-who of the architecture and design worlds. A+D will celebrate the artistic journey that fuels great design. Gala guests will also be treated to a culinary journey of international flavors, and a fun silent auction chock full of travel and adventure items.
About FORM :
FORM is the collaboration of Emmy award winning designer Joshua Rose and Chinese medical practitioner Rafael Kalichstein. FORM has completed over seventy projects including the US headquarters of multinational film corporation Senator Entertainment, the LA headquarters of hospitality PR giant Wagstaff Worldwide and homes for a host of celebrity clientele. FORM is presently busy developing product lines and designing hospitality and residential projects in Sonoma, Austin, Beverly Hills and Hancock Park. Joshua and Rafael believe that spaces speak. In order for a design to succeed it is imperative that the designer listen. For more information, or to schedule an interview with the designers, contact Shaun Thompson PR at (310) 838-0444; shaun(at)shaunthompsonpr(dot)com.
(http://www.formlosangeles.com)
ABOUT A+D :
Established in January 2001, A+D is the only museum in the country to exclusively and continuously host architecture and design exhibitions, symposia, multi-disciplinary projects, educational, and community programs. The Museum showcases the work of important regional, national, and international designs across disciplines, providing a forum for contemporary issues in architecture, urbanism, and design. It is a non-profit, 501(c)3 organization and, as such, contributions are tax deductible.
(http://www.aplusd.org)
About Cole Sternberg :
Born in Richmond, Virginia and raised in Saratoga, California, Sternberg earned his BA from Villanova University, and his JD at the Washington College of Law at American University. He uses his legal background extensively in his work, combining a socio-political point of view with a strong aesthetic. Sternberg has exhibited both nationally and internationally, including a solo show at The American University Museum in Washington, DC. His works can be found in major collections and publications throughout the world.
(http://www.colesternberg.com)
About Sevan Avakian :
Sevan Avakian, G.G., is founder and jewelry artist for Sevan A Designs and VII A.D. (vii-ad.com). Sevan has almost 30 years in jewelry art as an artist, designer, master craftsman, master metal smith, master platinum smith, gemologist who believes in handmaking and wax sculpting wearable art. Sevan is passionate about art and science, mixing the 2 in everything he produces. In his spare time, he paints, wood carves and collects rare gemology books and publications and when he can, takes mining trips with his close friend and Gem Artist, Martin Guptill. He is married to his best friend and business partner while raising their 3 eccentric children. Life is family, food and art... love hope faith
(http://www.sevanadesigns.com)