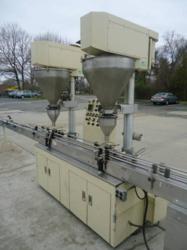 We pride ourselves in maintaining long-standing relationships with our customers.
Bohemia, NY (PRWEB) April 30, 2013
Wohl Associates has announced that they are now selling a used All-Fill Dual Head Automatic Auger Filling Machine. This piece of used coffee machinery can fill up to 200 bags of coffee or similar product each minute.
This filling machine is manufactured by All-Fill and has two large auger heads that are capable of simultaneously filling coffee bags in a production environment. The "DHA" auger heads on this machine are also manufactured by All-Fill. Each of the heads has an agitated hopper that measures approximately 20 inches in diameter, and they are designed to use a "bottom up" filling process.
This machine setup includes the indexing conveyor which is the largest part of the machine. The stainless steel conveyor measures approximately 22 feet in length. The stainless steel construction helps to ensure the durability of the machinery as well as allow for easy cleaning in order to maintain a sanitary production environment.
Wohl Associates is also selling a single-augerhead filling machine that is made by Universal Packaging. This piece of used coffee packaging machinery is capable of filling bags in addition to forming the bags and sealing them after they are filled. Both of these machines are in great condition and both machines are ideal for a coffee company that is purchasing additional equipment.
The inventory at Wohl goes far beyond coffee and tea production equipment. This company purchases used machinery for a wide variety of industries and a wide variety of purposes. They are one of the largest buyers of food processing equipment in the United States and the variety in their inventory is a testament to this.
Some of the other popular types of machinery that can be found at Wohl include Gemco blenders, snack food equipment, pasta machines, pharmaceutical equipment, ribbon blenders, cartoners, homogenizers, jacketed kettles, stainless steel kettles and more.
Wohl Associates has been a trusted supplier of pre-owned coffee machines and other production machinery for more than 40 years. Their priorities include customer service and providing useful industry knowledge to customers that are considering their production options.
About Wohl Associates
Wohl Associates is a leading dealer in the used processing and packaging machinery industry. With a history and solid reputation spanning over 40 years, they have earned the trust of their clients by offering quality pre-owned equipment, expert customer service and invaluable knowledge to their customers. They treat each customer on an individual basis and customers are provided the highest level of service. With a large inventory including cartoners, ribbon blenders, stainless steel tanks, unscrambling tables, colloid mills and vitamin manufacturing equipment,Wohl Associates has the pre-owned machinery to fit any production line. To view their inventory and learn more, visit them at http://www.wohlassociates.com/.