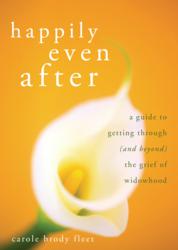 (PRWEB) April 30, 2013
Carole Brody Fleet is Founder and Chief Executive Officer of Widows Wear Stilettos, Inc. Widely recognized as a leader and expert in the areas of grief and loss recovery, Ms. Fleet is a regular guest on national and international TV and radio shows. She is a top blogger for Huffington Post, and her most recent article deals with navigating the murky waters of dating again for the first time after the loss of a spouse. Her blog on Huffington Post has often been featured on the front page of AOL, and is a key resource for those facing the difficulties after a loss.
She has been featured in many magazines, newspapers and websites, and is recipient of the Embrace Life Award from State Farm Insurance Companies and the Board of Directors Outstanding Service Award from the Soaring Spirits Loss Foundation. On March 11, 2013 Carole was the recipient of the prestigious Books for a Better Life Award (awarded by the National Multiple Sclerosis Society) for Happily Even After, which won in the Relationships category.
Carole Brody Fleet is the author of Happily Even After: A Guide to Getting Through (and Beyond) the Grief of Widowhood. Happily Even After includes answers to thousands of actual letters to the Widows Wear Stilettos website, and is written in Q&A form for easy reference. From child rearing and finances to issues of intimacy, it also addresses some of the most difficult and heartbreaking issues that many widows face; such as receiving a call or personal visit breaking the news about a husband's death from his mistress; or how to deal with widowhood and grief when a marriage is deteriorating or in the midst of divorce; and the technically unmarried widow, or "widow of the heart"—anyone who has lost the person with whom they expected to spend the rest of their lives.
Tune in to hear Carole Brody Fleet on On Purpose Radio on May 2nd. Carole will also be leading Camp Widow West in San Diego on June 28th.