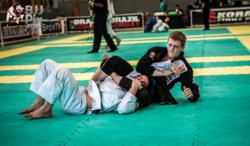 Devon is one of our most consistent performers. - Coach Julius Park
Sao Paulo, MD (PRWEB) April 29, 2013
Crazy 88 Brazilian Jiu Jitsu competitor and coach, Devon Delbrugge, traveled across the globe to compete in the Brazilian National Championships, winning four fights for bronze in his weight class.
Delbrugge, a blue belt middleweight who trains at Crazy 88 Brazilian Jiu Jitsu in Elkdridge, Maryland, has been traveling the world competing in Brazilian Jiu Jitsu. He picked up his first Grand Slam medal of the 2013 season in Brazil.
"Devon is one of our most consistent performers. He has been in that championship tier for a few months now and we are just waiting for him to breakthrough to the next level," commented Head Coach, Julius Park
Held in the sport's homeland, the Brazilian National Championship, or Brasileros, is known for attracting some of BJJ's toughest competitors. It is the third of four Grand Slam tournaments organized by the International Brazilian Jiu Jitsu Federation each year.
The fourth and final major tournament of 2013 -- the World Championships -- is fast approaching, and Delbrugge is already back on the mat in Maryland preparing. Soon, he and his teammates will travel to Long Beach, California to put themselves to the test yet again.
If you're interested in Brazilian Jiu Jitsu, Muay Thai Kickboxing or Mixed Martial Arts classes for kids or adults, please give us a call and ask about our 30 day free trial, 443-283-1450, http://www.baltimoremixedmartialarts.com