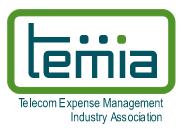 BYOD is NEVER a one size fits all solution.
West Lake Village, CA (PRWEB) April 30, 2013
The Telecom Expense Management Industry Association (TEMIA) (http://www.temia.org), the authoritative voice for the Telecommunications Management, Telecom Expense Management (TEM), Wireless Expense Management (WEM), Mobile Device Management (MDM) and Solutions Providers reports that 69% of enterprises find that mobile services costs are either rising or about the same after adopting BYOD.
TEMIA recently conducted a member survey on enterprise trends for Bring Your Own Device to Work (BYOD) and Mobile Device Management. Its 40 + members are well positioned to provide insights, since they manage over $61 Billion in spend on behalf of enterprises and 80% of TEMIA members assist clients in implementing BYOD strategies.
"BYOD is never a "one size fits all" solution. Most organizations have exceptions for different job functions like executives, field sales, operations and office personnel. A hybrid BYOD solution offers more flexibility, but clients are surprised by the amount of time and extra funding that is necessary to support these programs. For example, employee stipends make sense, but employees lose a portion of these reimbursements due to taxes. Many employers end up increasing their stipend payments. This just adds unexpected expenses for the program and make it more costly compared to alternatives," stated Cameron Sowder, Director of TEM Solutions at Manage Mobility.
Steve Haddock, Director of Bluefish Wireless stated, "Successful BYOD programs take a tremendous amount of strategic planning and work. The most successful BYOD programs are very deliberate in terms of increasing the wireless budget. There are also a number of legal issues with BYOD which put employers at risk. Enterprises that are considering BYOD should invest some time to consider BYOD and the various alternatives including Choose Your Own Device (CYOD), Corporate Liable Employee Owned, (CLEO), and Corporate Owned Personally-Enabled or COPE programs. This is where it is helpful to engage with a Solutions Provider to determine the best approach and how best to integrate TEM and WEM programs with Mobile Device Management (MDM)."
While BYOD programs are found to be more expensive, the report provides guidance for managers that still wish to implement a BYOD program or one of its alternatives. The findings from the survey will be published in a free report titled, BYOD: Dos and Don'ts, which is available for free from the TEMIA website.
About TEMIA
TEMIA's ongoing mission is to raise awareness, to improve the quality and value of solutions and to cultivate shared industry knowledge for Telecommunications Management, Telecom Expense Management, TEM, Wireless Expense Management WEM, and Mobile Device Management MDM solutions. TEMIA seeks to do this through the development and promotion of open industry standards, and industry knowledge among solutions providers, business partners, telecom service providers, and enterprise clients. Further, TEMIA members subscribe to a Code of Ethics, which clearly differentiates their level of commitment to their clients.
For more information about TEMIA, visit http://www.temia.org.