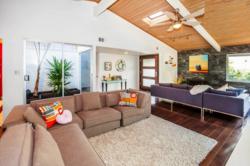 These seven homes are valuable additions to Bluewater's always expanding inventory.
SAN DIEGO, CA (PRWEB) April 30, 2013
Bluewater Vacation Homes announced the addition of seven new vacation homes to their management portfolio.
The new inventory includes two recently remodeled homes on San Luis Rey Court, an upstairs unit and a downstairs unit. Both homes feature hardwood flooring along with flat screen HDTVs, granite counters, and stainless steel appliances. They can be combined to accommodate 14 people in 5 bedrooms.
The expanded portfolio also includes a recently remodeled 3 bedroom home in Pacific Beach with a backyard that opens up from the main room via two modern garage doors. The outdoor lounge space includes a fire pit and a barbecue station. This home is newly furnished with wood flooring, a modern 1960's style kitchen, and a living room with two central lounge areas.
The final additions to Bluewater's new inventory are four cottages in Pacific Beach. Also recently renovated, these one-bedroom cottages are furnished with queen beds in the bedrooms and pull-out full beds in the living area, allowing them each to accommodate up to four people. The owners remodeled the cottages staying true to the beach cottage style with tile flooring and tropical landscaping.
These seven homes are valuable additions to Bluewater's always expanding inventory. If you are interested in Bluewater's management services, their team would gladly perform a complimentary assessment of your home. They can be reached at 1-800-243-3588.
About Bluewater Vacation Homes
Bluewater Vacation Homes offers superior hospitality and management services on the Southern California Coast. With exceptionally high standards in the vacation rental industry, Bluewater is an innovative management team that employs creative marketing strategies to ensure the highest occupancy for their rentals. Bluewater excels in maximizing owners' satisfaction and creating stress-free vacation experiences for guests. For more information on Bluewater Vacation Homes, please visit our website.