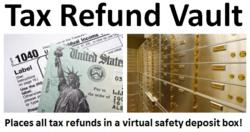 To unlock a refund, one would simply log into their online bank or visit their local bank branch. Unbanked users could unlock their refund while checking their credit.
Orange County, CA (PRWEB) April 30, 2013
The 5-billion dollar a year problem of tax refund fraud may soon be history if a solution invented by Randy Smith, Chief Editor of Mobile Wallet Media, is built for use by the IRS and states to protect our tax dollars.
A recent article by Forbes summarizes the growing problem of tax return fraud:
"The numbers are staggering. According to Congress' Government Accountability Office, the IRS detected 642,000 cases of identity theft in the first nine months of 2012, up from 242,000 in all of 2011. The Treasury Inspector General for tax Administration estimated in July that 1.5 million bogus returns claiming $5.2 billion in refunds are getting through a year. Regardless of the exact number, the fraudsters are exploiting the fact that the IRS doesn't process the W-2s and 1099s it gets for taxpayers until well after it pays out refunds."
Mr. Smith, who launched his career in mobile payments as the primary founder of TechCrunch Disrupt Award Winner MobilePayUSA, states "The solution to prevent tax refund fraud came to me after inventing a solution to end most all ID theft. It works like a safety deposit box protecting your tax refund and our tax dollars."
This solution would be very simple to use for both tax return filers and the IRS. Here's how the Tax Refund Vault would work:
Step 1) Tax filers login to IRS site through their online bank or while at a bank branch (banks have already verified their customers identification and make the perfect distribution and security channel – a knowledge based questionnaire could also be performed by credit bureaus for those without bank accounts or used for secondary fraud screening).
Step 2) Filers select a form to file.
Step 3) Filers are asked to enter numeric values of 3- 5 fields from their prepared tax return (the software program generates 3-5 fields that must be filled out for this form, are numeric and unique in value for each form).
Step 4) Filers file return via e-file or regular mail.
Step 5) The IRS would not process a tax return or refund that has not been registered through steps 1-4 or does not match up with the one received in comparison to steps 1-4.
Smith continues "This solution places your tax refund into a 'Virtual Safety Deposit Box'. Once the software is developed and banks have connected to the solution via API, all tax returns will be protected without requiring signup by users. To unlock your refund and begin the processing of your tax return, one simply logs into their online bank or visits their local branch. This solution leverages bank security and authentication abilities to prevent tax fraud. This solution would likely require a congressman or senator to draft and present a bill, but if the mainstream media reported upon this solution it would definitely pave the way for it to become law."
Smith shared a bit about his solution to prevent ID theft:
"The MyCreditVault solution would enable consumers or businesses to use their mobile phones to turn on and off or lock and unlock any of their financial accounts in real-time. To prevent card fraud, the system would work automatically using a mobile phone's GPS or manually by setting parameters for use by zip, area or country code.
The MyCreditVault system would make stolen credit, debit or social security numbers useless in hands of cyber thieves. If a consumer has their card turned off and a thief attempts to use their stolen card or card data, the transaction would be denied. If a thief attempts to apply for a loan or credit card, a credit file will not be issued unless the consumer grants permission for a bank to receive the credit file. If the bank does not receive a credit file they will not grant a loan and ID thieves are thwarted."
To learn more watch this 2-minute video, or visit MyCreditVault.com or TaxRefundVault.com.