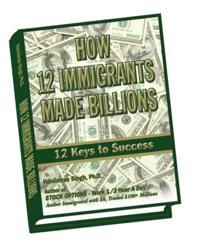 Oyster Bay, New York (PRWEB) April 30, 2013
Dr. Harsimran Singh's newly released book, "How 12 Immigrants Made Billions - 12 Keys to Success," showcases stories of immigrants from all over the world who have come to America with nothing, and have become inspiring stories of success and wealth. By examining the immigrant billionaires' lives and steps to success, Dr. Singh answers the question, "How did they do it?" by listing his own 12 keys to success.
All of the billionaires were hindered as strangers to the United States. A couple of these individuals had hardly enough money for a cup of coffee or a bus token while others lacked the knowledge of English necessary to do so. Yet each one of them, in time, had succeeded to make billions.
Each billionaire's story also represents one of Dr. Singh's 12 keys to success. To arrive at these 12 keys to success, Dr. Singh has analyzed each billionaire's course of action and life decisions. Whether a reader's goals are spiritual, personal, financial, or a combination of the preceding, every key is a powerful and uplifting message that will, without a doubt, transform the readers' lives.
In this book, Dr. Singh offers an array of experience which contains the ingredients that will enable readers to not only recognize opportunity when it knocks but also to ensure they are ready to open the door, invite it in, and take full advantage of its presence. This book contains lessons so important that readers' hearts will pound in excitement at the prospect of what each coming day can bring.
Here are 3 Keys to Success mentioned in Dr. Singh's book:
1. Success starts with the thought—A positive thought.
2. You are thinking—You might as well think BIG.
3. Channel the energy of anger, lust, and ego—Develop self-discipline.
By learning these immigrants' keys to success, American citizens can learn how to keep the American dream alive. In the recent years of economic turmoil, a sense of entrepreneurship and unyielding desire for success that will be learned by readers of this book can propel the economy into a better tomorrow.