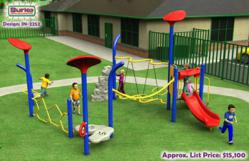 Best Priced Playground Equipment in California
Los Angeles, California (PRWEB) April 30, 2013
Sun Country Systems, Inc. is now offering to all of Southern California and Northern California customers the best sale prices of the year on playground equipment. Company President, Tim Hollinger, states "if you are planning to purchase playground equipment for either a new playground project or renovation of an existing playground, now is the time to purchase. We are currently offering discounts of 15% on all our playground equipment." On top of Sun Country Systems's sale prices and their free design and playground consultation services, there is no better time than the present to start your playground project and no better company to make your purchase from then us.
Sun Country Systems has been building and installing playgrounds for schools parks, apartments, homeowner associations, daycares and churches since the 1990s. We can provide everything you need for a fun, safe, and interactive play area including installation and after sales support using our local representatives. We offer shade structures, safety surfacing, tables benches, recreation and athletic equipment and all outdoor play area products.
Sun Country Systems playground equipment is designed and manufactured to meet and exceed all of the industry safety standards for children of all ages and capabilities. Only the best materials are used to produce the playground equipment we sell, and our equipment is built by the most highly regarded manufacturers' in the playground equipment industry BCI BURKE and Berliner Seilfabrik.
Tim Hollinger, company President added that "unlike other playground companies, we provide all the services you need for your project from installation of playground equipment, safety surfacing, shade structures and site amenities. We offer free consultations and designs and the most efficient, courteous and professional staff in California. " All of the designs produced by Sun Country Systems are created to represent the individual needs and exclusive visions of each client. With a discount available on every commercial playground equipment purchase, Sun Country Systems, is guaranteed to price match or beat most competitors pricing as well as superseding them in quality and safety.
Outside play is a crucial part in the lives of today's youth. Through their innovative designs and top of the line equipment Sun Country Systems brings an unbeatable play experience to youth in local communities. These experiences will create a lifetime of memories for the children of Orange, Los Angeles, San Diego, Bakersfield, Riverside, Kern, Sacramento and other counties of California. You will find Sun Country Systems commercial playgrounds in your local schools, parks, neighborhoods, churches, etc. which offer a nurturing environment for children to grow and develop their much needed gross motor and social skills.
Sun Country Systems carries everything you need to have the best playground you can imagine, all while staying within your budget.
The sale is offered to all of California and Hawaii, including the following cities: Palm Desert, San Bernardino, Ventura, Irvine, Bakersfield, Sacramento, Folsom, San Diego, Anaheim, Irvine, Inland Empire, Santa Barbara, San Luis Obispo, Fontana, Colton, Ontario, San Leandro, Santa Clara, Napa Valley, Madera, Merced, San Jose, Burbank, Glendale, Los Angeles, Bakersfield.
Call us Now at 877-268-1550 for your free design and playground project consultation. You will find that we will design, sell and install the best playground projects and the best prices.
About Sun Country Systems: Sun Country Systems and its owners Timothy Hollinger and Rebecca Hollinger have been servicing all areas of California with their services and products for over 20 years. Providing top of the line products to areas such as Kern, San Diego, Orange, Riverside, San Bernardino, Los Angeles and Sacramento.