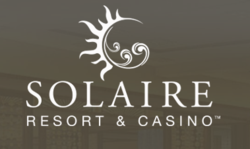 We are thrilled to have earned Solaire's business...
Las Vegas, NV (PRWEB) April 30, 2013
Today, Solaire Casino, a Las Vegas style casino based in the Philippines, announced the deployment of the Casino Connect Suite by eConnect. Solaire selected the system due to its tight integration with their existing business systems.Casino Connect provides Solaire with the ability to identify patterns of theft, fraud and human error in their table games operations as well as their POS transactions. The system correlates live and recorded surveillance video with transactional data from their smart Baccarat shoes, their POS terminals and the casino table games ratings system; providing real-time exception based reporting and alerts with the ability to visually verify suspicious events and changes in business trends.
See eConnect in booth #804 at G2EAsia on May 22 & 23. http://www.g2easia.com
"We are thrilled to have earned Solaire's business," commented Henry Valentino, CEO of eConnect. "Casino operators like Solaire process thousands of transactions per month so they rely on systems like ours to ensure the integrity of the transactions. Casino Connect identifies new trends in their business and helps proactively discover details about transactional discrepancies that are not easily seen with human effort alone."
Solaire is the Philippine's premier integrated destination casino resort. Solaire is the first to open in the highly anticipated Entertainment City project along the Philippine's famed Manila Bay. The first phase includes approximately 500 luxuriously appointed rooms, suites and bayside villas as well as resort-style pool facilities, bars and entertainment lounges. In addition, there is a state-of-the-art ballroom and meeting space, and a fully equipped spa and fitness center. The resort also features a world-class dining experience at their signature, casual and quick serve restaurants. The new dining avenues are headed by world-renowned chefs and showcase a comprehensive selection of authentic local and international flavors to cater to even the most discerning palate.
And to give you the ultimate Las Vegas gaming experience, Solaire's expansive 18,500 square-meter casino area stretches two levels of gaming space, including premium VIP salons and an outdoor themed casino and entertainment bar – all loaded with the most popular slot machines and table games, such as Baccarat, Blackjack, Pontoon and many more!
About eConnect:
eConnect is a software company in the security industry, which provides financial transactional analysis with visual verification. This is accomplished by synchronizing transactional data from point-of-sale (POS), casino systems and games to digital video surveillance, producing the best fraud deterrence tool in the industry. The software tool also increases the effectiveness of employee productivity, allowing managers to easily identify common employee errors. The software provides a dramatic return on investment usually within 3 to 6 months.
Learn more about Casino Connect in this video:
http://www.econnectglobal.com/casinoconnect.html
See eConnect in booth #804 at G2EAsia on May 22 & 23- http://www.g2easia.com