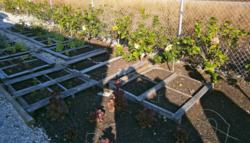 (PRWEB) April 30, 2013
Into Action Treatment center just celebrated the graduation of their 42nd client at their small 24 bed drug rehab center. In what has become a tradition, they also planted a tree at their center, signifying the start of a new life. There are now 42 trees along the back of the property, which range from orange and peach trees, to pine trees. The trees are a promising reminder that people do recover from the deadly disease of alcohol and drug addiction.
Into Action Treatment has been open for a little over a year and it is remarkable how much of a difference they have made in the past 14 months. Their center is not your average addiction treatment center, which focus on the 28 day model of treating addiction. Most centers are already planning a person's discharge the day they show up, but Into Action Treatment has a minimum stay of 45 days, but the average stay is over 90 days.
Andrey Rossin is the founder of the center and he is the one behind the idea of planting trees for each successful graduation. "We are always excited to celebrate one of our clients completing the program at Into Action. It means that we have done our jobs, but more importantly it means that our clients have done the real work and changed themselves from the inside out."
Into Action Treatment is a small 24 bed coed Florida drug rehab center located in Boynton Beach. Into Action is a very unique center, which focuses on long term recovery for addicts and alcoholics. Most treatment centers in the industry are 28 days, however Into Action is a minimum of 45 days, while most clients who complete the program end up staying over 90 days, even if their insurance money has run out. For more information on Into Action Treatment and how they can help those affected with addiction, visit their website at http://www.intoactiontreatment.com, or call their 24 hour hotline at 1-855-933-6732 for free addiction advice and treatment options.