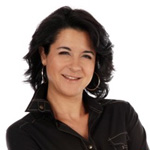 Aida Chamica is an extraordinary addition to our well-respected team of trainers.
Melbourne, Australia (PRWEB) April 30, 2013
International Coach Academy (ICA) welcomes Aida Chamica, Portugal's first MCC (Master Certified Coach) to their faculty. Chamica is an experienced executive and team coach who has many years experience (more than 3000 hours) and more than 80 different clients, in several markets including financial services and insurance; health; engineering and constructions; telecommunications; utilities and public sector.
Aida, Chamica speaks Portuguese, English, French and Spanish and will provide leadership for ICAs English ACTP program as well as support the development or our Portuguese ACTP program.
"Aida Chamica is an extraordinary addition to our well-respected team of trainers," says Robyn Logan whose Australian-based coach certification training program draws students from all over the world. "She will add exceptional value to our coach training which challenges and guides coaches to be leaders not only in the coaching profession, but in the many diverse professions they work in."
According to Logan, Chamica's role involves ensuring "our professional coaching programs continue to be rigorous and include a well-balanced mix of theory and practice encouraging personal reflection, an appreciation of the ethical aspects of coaching, and a demonstrated understanding of the core competencies of coaching set out by the International Coach Federation."
With more than 14 years of experience in consultancy, including working for Accenture as a Senior Manager in Human Performance & Organizations Area, Chamiça is a trainer in the ACTP Coaching Training Program (ICF certified) and Activision Variations in Portugal.
Her coaching tools and assessments certifications include a variety of leadership and team assessments, coaching processes and organizational development strategies to maximize performance, including:
Emotional and Social Competency Inventory (Hay Group, London)
Inventory of Leadership Styles (Hay Group, London)
Coaching with Process Communication (Kahler Europe, Paris)
Systemic Coaching – Organizational Constellations
NLP Practitioner certification
Chamica also facilitates workshops for corporations and gives keynotes and presentations in conferences and corporate meetings, helping executives around the world, in person or using web based solutions like Skype for coaching online.
# # #
About ICA. ICA runs free coach training classes for people interested in learning more about professional coach certification. "Coaching 101" classes run weekly and attract coaching students from all over the world. Participants are leaving more excited to apply what they have learned about being a successful coach. Coaching 101 trainer, Nick Bosk explains, "We are delighted to offer relevant and valuable information through this training series to meet the increasing demand and interest in the coaching field."
Globally more than 4,000 students from over 70 countries have attended the International Coach Academy. Today, with over 40 full and part time staff and trainers located throughout the world, ICA operates around the clock, over multiple time zones. Students access courses from their homes and yet engage with people from every corner of the world.
ICA fosters worldwide connection among established and prospective coaches as well as those who use the coaching process in their business, their art, and their relationships.