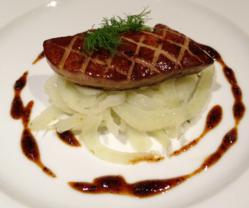 Mirepoix USA announced that the company's Foie Gras Tasting, Wine Pairing, and Sales event, held Saturday, April 27th, in Reno, Nevada sold out.
Reno, NV (PRWEB) April 30, 2013
Mirepoix USA (enjoyfoiegras.com), a leading online purveyor of foie gras, caviar, truffles and other gourmet foods, hosted a sold out five-course Foie Gras Tasting, Wine Pairing and Sales event in Reno, Nevada, on Saturday, April 27th.
Mirepoix USA moved its operations to Reno, Nevada in response to California State Senate Bill No. 1520 (SB 1520), the "foie gras ban", which became law on July 1, 2012, and forbids the sale or production of foie gras in the state of California.
Californians and local foie gras connoisseurs attended Mirepoix USA's five-course Foie Gras Tasting and Wine Pairing event held in downtown Reno at a private clubhouse. According to Laurel Pine, Mirepoix USA founder, "About half our guests were from California. Some traveled from locations as far away as Santa Barbara and Los Angeles. There were, of course, a lot of people who came from the Bay Area as well. We were honored that our clients traveled such distances to participate in our foie gras tasting."
The five courses served at the April 27th tasting event in Reno included Foie Gras Cured with Lavender Sea Salt, Block of Foie Gras with Blood Orange Sauce and Chilies on Toasted Brioche, Seared Foie Gras with Simmered Fennel and Cracked Pepper Caramel Sauce, Mini Beef Wellington with Wagyu Beef and Foie Gras, and for dessert, Foie Gras Ice Cream Profiteroles with Caramel and Fleur de Sel. Each course was paired with a taste of world class wines from Napa Valley boutique winery, Bourassa Vineyards. Executive Chef David Verzello prepared all the courses in an open kitchen, allowing guests to watch the final preparations of each course.
Mirepoix USA has not yet announced the next foie gras tasting event, but the company's founder, Laurel Pine, stated, "we will be offering foie gras tasting and wine pairing events approximately every quarter. Our next Reno tasting will probably be in August. We are also considering offering an event in Las Vegas."
Mirepoix USA sources the highest quality specialty gourmet foods and traditional French foods from manufacturers and importers across the United States. The company began marketing foie gras and other traditional French foods in 2004, and currently offers over 40 foie gras selections, fresh truffles, caviar, Wagyu and US Kobe beef, French cheeses, and a wide selection of gourmet gift baskets and gourmet food. In 2012, Mirepoix USA began offering live tasting events in the US and food and wine tours in Europe.
For more information about Mirepoix USA's foie gras tasting events, visit http://www.enjoyfoiegras.com or call 866-992-9559.