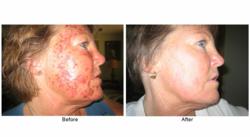 Studies like this one are important steps along the road to seeing emu oil gain new classification as a drug by the FDA.
Chapmansboro, TN (PRWEB) April 30, 2013
This month, Australian researchers revealed the results of a study that found that emu oil helps to repair bowel damage in chemotherapy patients. The study was conducted at Adelaide University, Australia's oldest university. The Aborigines people of Australia have used emu oil for centuries for a variety of applications, including treating skin conditions and improving digestive functions.
In the United States, however, emu oil is currently classified by the FDA as a dietary supplement and cosmetic ingredient that is safe for human consumption, but not as a drug. While there have been many studies done in the US which showcase the oil's ability to promote skin cell regeneration, it still remains an obscure treatment due to its classification.
Americans like Katy Binford, who have experienced the benefits of emu oil first hand, can attest to the skin regeneration properties. "After being diagnosed with skin cancer," says Mrs. Binford, "I went through a rigorous cycle of chemotherapy, which left burns all along my face. I used emu oil everyday to help with the inflammation, as well as to reduce scarring. My face healed beautifully and you would never be able to tell that it was once covered with burns."
This new study showcases another benefit of emu oil for chemotherapy patients: the repairing of damaged bowel cells. Up to 60% of chemotherapy patients suffer from some form of intestinal ulcers as a result of their treatment. The researchers at Adelaide University have now effectively shown that emu oil helps with the acceleration of the growth of intestinal crypts, which aid in food absorption. "We have now done sufficient studies in the laboratory to show that emu oil has potential to help reduce the debilitating symptoms of these conditions and to enhance intestinal recovery," said Professor Gordon Howarth, the lead researcher.
Back in the United States, Paul Binford of LB Processors, LLC hopes that this study will encourage more American studies on the properties and uses of emu oil. "Having seen the results that emu oil can provide firsthand when Katy was diagnosed, we are firm believers that it can help many other chemotherapy patients. Studies like this one are important steps along the road to seeing emu oil gain new classification as a drug by the FDA."
LB Processors is a leading distributor of emu oil in the United States. Paul and Katy Binford founded this family run business in 1994 outside of Nashville, TN. Many emu oil companies within the US have their oil processed at the Binford's FDA approved facility because of the high quality of the resulting oil. To learn more about LB Processors or the many uses of emu oil, visit their website at LBprocessors.com.