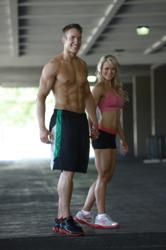 Unlike the typical 6-12 week fitness challenges, Workout Anywhere believes in creating healthy lifestyles over fitness highlights.
(PRWEB) April 30, 2013
As more and more fitness challenges are being promoted, with the duration of the challenge diminishing, the question arises, "does this challenge translate into a lifestyle shift?" Unfortunately, the answer is no. Most fitness challenges are to brief to undo years, or a lifetime of bad habits. In spite of some of the miraculous physical changes one can undergo, mentally and emotionally one needs close to six months or a year to cement a new, healthy lifestyle. Workout Anywhere by RundleFit addresses this dilemma with their own unique and successful formula to change the mindset of the challenge and call it what it truly is. RundleFit offers a unique, six-week "jump-start" program to encourage health conscientious people towards making healthy a lifestyle.
Unlike the typical 6-12 week fitness challenges, Workout Anywhere believes in creating healthy lifestyles over fitness highlights. Rarely do fitness challenges equate to a long-term, sustainable lifestyle shift. RundleFit addresses this problem and the other issues of most unsustainable fitness challenges, and heavily rewards those who need a true lifestyle change. With the tandem of prizes and their vast array of anywhere home workouts, coaching and all-level nutrition and fitness system, one is sure to create a new healthy lifestyle for the long haul.
As unique as Workout Anywhere's positive incentive program is, the format of the challenge is another original anomaly in the fitness industry. For one, prizes start at six weeks and then progressively build in value at the 3, 6, 9, and 12-month milestones. As well, prizes can be won by everyone, because one competes individually and not against others. If contestants reach their goal and follow all the guidelines, prizes are awarded.
Along with the positive incentive nature and theme of doing it for one's self, there is no specific start date. This means anyone can join at anytime. To read more about the rules and guidelines, check out RundleFit's free Jump-Start Guide: The Jump Start Guide is a short e-book that offers helpful information on getting started. As well, the guide explains:
1. How to choose a body weight and body fat percentage.
2. Explains individual body types. (This is an important aspect since fitness and nutrition should not be a one size fits all format. Everyone is unique enough to require some customization in his or her programming.)
3. Also, The Jump-Start Guide gives wonderful tips on realistic expectations of how long it should take one to reach their goals.
Workout Anywhere is determined to help others achieve a healthy lifestyle change and fitness excellence. They believe others should benefit as they have from a lifestyle change and know anyone can do it. As well, they have been through the same experiences as other individuals who have had amazing transformations in 30-90 days. Only to have huge rebounds when they reach the end of the fitness challenge because they failed to plan for the next stage of maintaining their new, amazing physiques. This does not have to happen, and RundleFit's Workout Anywhere is the answer!