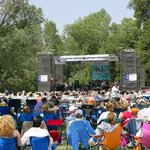 we are happy to come out, share our enthusiasm about solar energy, help those less fortunate, and enjoy ourselves at this gorgeous event
Murrieta, CA (PRWEB) April 30, 2013
On the shores of Vail Lake May 4th, jazz, pop and R&B superstars will converge onstage. Headlining is Grammy- and Tony- nominated artist/singer/composer, Brenda Russell, who is best known for her hits, Piano in the Dark, Get Here and So Good So Right. Russell's talents span genres and generations, writing for and/or singing with Stevie Wonder, Aretha Franklin, Earth, Wind & Fire, Joni Mitchell, Donna Summer, Flo Rida and Sting. She also composed music for the Broadway hit The Color Purple.
"We love the Temecula Wine and Music Festival," said Kelly Smith, president of Ambassador Energy. "This is our fourth year. Each year the producers donate to a really great cause, so we are happy to come out, share our enthusiasm about solar energy, help those less fortunate, and enjoy ourselves at this gorgeous event. I love walking around, shopping the vendor booths, tasting wines, and eating fun food - all while beautiful music plays on stage. There are giant oak trees, a peaceful pond, lots of grass, and it doesn't hurt that they have a cool VIP area, which I get to enjoy as a sponsor!"
"We are grateful for the continued support of Ambassador Energy and sponsors of our events," said Michael Paulo, world-class saxophonist and producer of the festival. He and his wife, Terri Paulo, own Apaulo Music Productions, each year creating shows in Hawaii and California, including the Pacific Rim Jazz Festival, Grooves in The Grove at La Quinta Resort and Spa, Smooth jazz nights at The Sheraton Waikiki, Temecula Wine and Music Festival, and various corporate events.
Paulo's lineage is not unfamiliar to the music scene. He comes from a famous Hawaiian family of musicians, has toured internationally with Al Jarreau, and played with many notable recording artists, including, James Ingram, Oleta Adams, Kenny Loggins, Patti Austin, Jeffrey Osborne, David Benoit, Johnny Mathis, among others. He will grace the stage in Temecula next week, playing with headliner, Brenda Russell.
Visit Ambassador Energy's booth, centrally located at the festival, where information regarding solar for homes, businesses and agriculture will be readily available.
About Ambassador Energy
Ambassador Energy [AE] has a three-pronged business model, which includes Ambassador Energy College Solar Training, the Ambassador Energy Agency Program and the installation arm, Ambassador Energy EPC. On staff are NABCEP Certified PV Installers, NABCEP Certified PV Technical Sales professionals [Fulgham/Kelso] and multiple NABCEP EL graduates. AE holds California licenses General Contractor B, C10 Electrician and C46 Renewable Energy. Ambassador Energy is IREC/ISPQ accredited. AE Agencies are nationwide. Ambassador Energy EPC installs PV systems throughout California and the US.
Keep up with Ambassador Energy on Facebook.
About Boys and Girls Club of Southwest County
Boys and Girls Club of Southwest County serves 6-18 year-olds and their families by providing transportation to and from the Clubhouses and school from 6:30 a.m. to 6:30 p.m. every school day, and exceptional programs that teach leadership, character, science, math, the arts, health and nutrition, and sports.