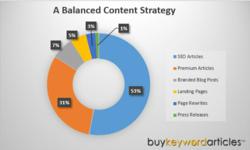 We believe in doing article marketing the right way. Fresh, original, relevant content will always be what makes our business run.
Washington Terrace, UT (PRWEB) April 30, 2013
Leading SEO content company, Buykeywordarticles.com (BKA), has just unveiled new tips on how to create a balanced SEO content writing strategy. These tips come as a result of 2012 and 2013 sales figures, and aim to give small to medium size businesses, SEO agencies, and corporations helpful information on how to utilize the content mediums currently available.
In a recent BKA blog post, the CEO and Co-Founder of Buykeywordarticles.com, Greg Secrist, goes into depth on the definition of article marketing and how it is viewed in the industry today. He states that while spun, irrelevant content produced in mass quantities has become extinct through Google algorithm updates like "Panda" and "Penguin", high-quality, original content is still highly sought after.
"Spun content is a waste of time and money," says Greg Secrist, CEO at Buykeywordarticles.com. "While content like this could technically be considered "unique," it is most often unreadable, irrelevant, and completely void of value. We believe in doing article marketing the right way. Fresh, original, relevant content will always be what makes our business run. We believe that you can distribute keyword focused content that still provides valuable, engaging information for the consumer."
Here is a quick summary of the latest tips offered by BKA based on sales trends over 2012 and the first quarter of 2013:
1. Article Marketing (as used by white-hat marketers) is alive and well. Unique, relevant content used for backlinking is the backbone of a balanced SEO strategy. SEO content writing should make up about 50% of overall content.
2. Industry specific niche blogging is all the rage right now. How-to's, Top (3,5,10) lists, controversial subjects, and walk-throughs offer readers something engaging, interesting, and helpful. This higher quality (and more creative) content should make up around 31% of a content strategy.
3. Branch out and try new content. Press Releases, branded blogs, white papers, and SEO-optimized Landing Pages are great ways to showcase high-quality content and improve brand image. These types of content should make up about 16% of a balanced content strategy.
For more information on the latest tips and SEO content trends in the industry, visit the BKA blog located at http://buykeywordarticles.com/blog/.
About Buykeywordarticles.com
Buykeywordarticles.com is one of the leading SEO article content providers on the web today. They have served clients ranging from individual internet marketers and SEO agencies to Fortune 500 companies. Their content services include both on-page and off-page content and they provide internet marketing solutions through the use of managed writing teams, dedicated account managers and quality content. To acquire more information on the services that they provide, please visit http://buykeywordarticles.com/.