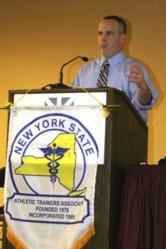 A team approach is the best way to identify, assess, and manage head and brain injuries.
(PRWEB) April 30, 2013
The New York State Athletic Trainers' Association continued its public outreach initiative, this time participating in the NYS Athletic Administrators Association (NYSAAA) annual conference from March 12-14, 2013 in Saratoga Springs, NY. NYSATA was instrumental in coordinating a presentation and panel discussion for high school athletic directors on concussion management strategies to meet the 2012 NYS legislation - Concussion Awareness and Management Act and subsequent Guidelines. The panel consisted of two secondary school certified athletic trainers (ATs), Dave Byrnes, MS, ATC, (Yorktown High School) who also gave the opening presentation, and Paul Lasinski, ATC (Harborfields High School); Jason Matuszak, MD, director of Excelsior Orthopedics Concussion Center; Patricia McLaughlin, RN, a school nurse in the Guilderland Central School District; and Todd Nelson, the NYS Public High School Athletic Association (NYSPHSAA) Assistant Director.
The session focused on highlighting the roles of the athletic healthcare team and how to best manage head injuries and return-to-play, driving home the point that a "team approach is the best way to identify, assess, and manage head/brain injuries." Many of the questions from the athletic directors in the audience focused on how hard it is to manage these injuries when a school does not have an AT, as well as other problems, issues and strategies on how best to implement and administer a concussion management program as it relates to the NYS law.
NYSATA also hosted an Exhibit booth, manned by Deanna Errico, DPT, PT, ATC, NYSATA President, and Rick Knizek, MS, ATC (Shenendehowa High School East) to answer questions and disseminate information to attendees. Handouts included information on sports-injury statistics, how an AT can save a school money, how an AT can provide better safety, prevention, and athletic healthcare for student-athletes, and sample concussion management documents. The booth was busy, and ADs from far and wide came by to either talk about how lucky their school is to employ a certified athletic trainer, or they inquired how to go about hiring one.
On Wednesday, April 10, Byrnes and another Westchester County secondary school athletic trainer, Michael Mirabella, MS, ATC, CSCS (White Plains City Schools) were part of a panel discussing concussion management at the secondary school level for a consortium of school physicians. The panel, comprised of athletic trainers and school medical directors local to Westchester County, also consisted of three school district physicians, including Ann Engelland, MD, a school nurse, and a Nurse Practitioner.
A key moment occurred when a physician in attendance asked for clarification about the role of the certified athletic trainer (AT) in concussion management. He alluded to the NYS scope of practice for ATs and seeming restrictions regarding 'rehabilitation of neurological conditions'. Dave Byrnes, MS, ATC, responded, "Concussions are not 'rehabilitated' in the classic sense, as the current accepted rehabilitation of a concussion is rest; but athletic trainers, rather, oversee the 'reconditioning' of the athlete after they have been medically cleared to begin that process. The expertise of certified athletic trainers in the area of concussion management makes them the most qualified staff member in the school setting to identify potential problems post-injury and during the reconditioning phase, as well as work with the physician on an appropriate return-to-play protocol. The primary role of an AT is the identification, assessment, and proper medical referral of possible head and brain injuries, in addition to educating parents, athletes, and school officials, including coaches, about concussions."
NYSATA, founded in 1976 and incorporated in 1989, stands to advance, encourage and improve the profession of athletic training (AT) by developing the common interests of its membership for the purpose of enhancing the quality of healthcare for the physically active in New York State. Comprised of over 1,200 certified and practicing athletic trainers, NYSATA is the state-wide affiliate of the regional Eastern Athletic Trainers' Association (EATA) and District Two of the National Athletic Trainers' Association (NATA).