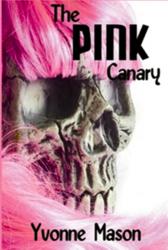 I can say she's really outdone herself. Think about it, a murder mystery told through the eyes of a singing, dancing, cross dressing Private Eye
Evergreen, Colorado (PRWEB) April 30, 2013
Brook Forest Voices (BFV) audiobook producer and publisher is set to begin production of "The Pink Canary" by Florida based author Yvonne Mason. In "The Pink Canary," Yvonne Mason delves into the Life of a Drag Queen as a marvelous-and hilarious-"Who done it?" Slated for a late summer release, "The Pink Canary" is seen through the eyes of Lou, a mild mannered detective by day, aka Lola, a fabulous drag queen by night. Narrated by Jaime Andrade, it evolves as Lola/Lou's friends try to help her find a killer and catch the monster behind a series of unspeakable murders. Ms Mason's previous BFV titles include "A Voice From the Grave" and "Dream Catcher, Failure Was Never An Option".
"BFV has thoroughly enjoyed our relationship with Yvonne," said Diana Andrade, President of Brook Forest Voices. "After reading "The Pink Canary" I can say she's really outdone herself. Think about it, a murder mystery told through the eyes of a singing, dancing, cross dressing Private Eye."
About Brook Forest Voices: a complete audio production studio located just west of Denver in Evergreen, CO, specializing in audiobook narration, production and publishing. BFV is designed to help large and small publishers, as well as authors, with all their audio needs. Publishers and authors wanting to learn more can visit http://www.brookforestvoices.com or contact Jaime Andrade, BFV Business Manager at 303-670-4145.