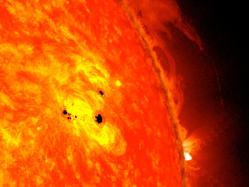 A scientist who resorts to hysteria and name-calling is not to be trusted
Calgary, Alberta, Canada (PRWEB) April 30, 2013
Friends of Science President Len Maier says: "James Hansen's hysterical proclamations on Canada's oil sands development are an insult to the thousands of highly qualified, professional scientists, engineers and skilled trades' people who work on the oil sands."
With the Daily Mail of the UK reporting on Oct. 13, 2012 no global warming in 16 years, Friends of Science say James Hansen's comments as reported in Canada's Macleans Magazine of April 24, 2013 show that James Hansen uses oil sands as a scapegoat to divert attention from failed catastrophic predictions he made about the effect of rising carbon dioxide (CO2) emissions on climate change.
"The fact that a scientist like James Hansen has lowered himself to calling Canadian government officials names as he did in CBC reports of April 27, 2013 shows how far this debate has strayed from the science," says Len Maier, President of Friends of Science.
Ironically, Alberta's oil sands back in 1974 under AOSTRA boasted a huge R&D budget, second only to NASA, Hansen's former employer.
After more than a decade of climate science review, Friends of Science position is that the sun is the main driver of climate change, not you or CO2.
Why isn't global warming happening according to Hansen's predictions?
Friends of Science director Ken Gregory explains: "The small direct effect from CO2 emissions is offset by powerful negative feedbacks from clouds and declining upper troposphere water vapor, especially in the tropics."
Gregory points out there is a very big difference between computer models and reality.
"The sea surface warming trends near the equator from 1982 predicted by climate models are six times greater than satellite measured trends. The scientific evidence shows the catastrophic predictions were wrong. Computer models are not able to accurately predict what happens in reality."
Maier states: "If James Hansen has a valid scientific argument, let him present it at average room temperature, in a civil tone and with scientific evidence."
Maier's 'room temperature' comment refers to the 1988 incident wherein former Democrat Senator Tim Wirth reportedly sponsored Hansen with a staged climate side-show. He chose the hottest day of the year for James Hansen to make his global warming presentation to the US Senate and he tells it all on Frontline on June 25, 2011 PBS Frontline in 2007 (transcript):
TIMOTHY WIRTH: What we did is that we went in the night before and opened all the windows, I will admit, right, so that the air conditioning wasn't working inside the room. And so when the- when the hearing occurred, there was not only bliss, which is television cameras and double figures, but it was really hot. (end transcript)
At that time, Hansen presented three global temperature predictions. Two predictions assumed different rates of increasing CO2 emission.
The actual global temperatures to date are far below Hansen's temperature prediction that assumed no emissions after 2000, even though actual CO2 emissions were greater than his highest emissions case.
"Over geological time scales, the world is in an overall cooling trend. The climate fluctuations of the past hundred years are well within known historic levels," confirms Maier. "The sun reached an 8,000-year high of magnetic activity in 1990 causing the 20th century warming."
"A scientist who resorts to hysteria and name-calling is not to be trusted," says Maier. "If you work in the oil sands, I hope you'll support our fight for a factual debate on climate change."
About Friends of Science
Friends of Science have spent a decade reviewing a broad spectrum of literature on climate change and have concluded the sun is the main driver of climate change, not carbon dioxide (CO2). The core group of the Friends of Science is made up of retired and active earth and atmospheric scientists. Membership is open to the public.
Contact:
Friends of Science
P.O.Box 23167, Connaught P.O.
Calgary, Alberta
Canada T2S 3B1
Toll-free Telephone: 1-888-789-9597
friendsofscience.org
E-mail: contact(at)friendsofscience(dot)org