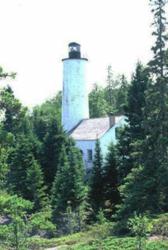 One can easily forget about time here. The island's message is that of a soft-edged endurance. We went for adventure; we left wondering how the island endures when so many guests leave with a piece of it in their hearts…"
-A past participant
Detroit, MI (PRWEB) April 30, 2013
Naturalist Journeys, a top nature and birding tour company, is proud to announce their upcoming August 31 – September 8, 2013, Michigan Isle Royale Hiking and Nature Adventure tour.
The eco-tour company's owner Peg Abbott says, "Isle Royale is a wilderness gem, an island archipelago in Lake Superior. There are no cars allowed to cross to the island, and all must reach here by boat or float plane. There is one lodge on the main island, where we stay, and miles of beckoning trails. Isle Royale National Park and the Rock Harbor Lodge concession staff provide a host of interpretive programs; we can choose from these and our own inspirations."
"At one time two MILES of ice covered this island," Abbott continues, "set in the largest freshwater lake in the world. Today the park is recognized as a Biosphere Reserve, a pristine example of Northern Biome forests, lakes, bogs, and island shorelines. Its rock spine is ancient, and scored by the movements of retreating glaciers, some 10,000 years ago." With opportunities to study nature, hike and canoe, Isle Royale hiking and nature tour participants will enjoy 4 nights in this secluded spot. Abbott chose to access Isle Royale via Michigan's Keweenaw Peninsula, a geologist's and naturalist's wonderland that once held rich copper mines. Here, the National Park Service has numerous sites to interpret the rich history of the region. Isle Royale hiking and nature tour participants will see the full length of the Keweenaw, jutting out into Lake Superior. The peninsula's coastlines and rugged beaches house ancient fossil stromatolites, while a mountain spine that runs the length of the peninsula affords outstanding views. Expert guides, along with Park Service staff, offer interpretation on boat cruises and hikes. Past Isle Royale hiking and nature tour participants rank the visit to Rolf and Candy Peterson's research cabin, home of the several-decade Isle Royale Wolf-Moose Project, as a tour highlight.
Find full details of Naturalist Journeys' Michigan's Isle Royale and Keweenaw Hiking and Nature Adventure Tour at http://www.naturalistjourneys.com/jcalendar/jc_MI13.htm.
More about the August 31 – September 8 Michigan Isle Royale Nature and Adventure tour
This nine-day hiking and nature adventure tour begins and ends at Houghton County Memorial Airport in Hancock, MI. This tour is limited to 12 participants.
More about Naturalist Journeys:
Naturalist Journeys LLC, a top birding and nature tour company, offers specialty small group travel worldwide, from the western U.S. to Alaska, Hawaii and Florida, Costa Rica, Panama, safaris in Africa and more. Naturalist Journey's guided nature and birding tours feature expert guides with decades of experience in bird-watching, travel photography and other forms of eco-tourism. Naturalist Journeys also offers hiking and adventure travel tours in many national parks and wildlife reserves, including the Galapagos, Antarctica and the Amazon.