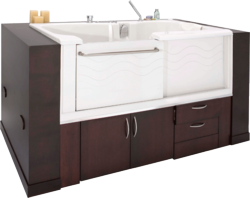 Aging Safely now carries walk in bathtubs, handicap shower stalls and transfer bathtubs with cabinets.
New York, NY (PRWEB) April 30, 2013
For bathers considering a hydrotherapy transfer bathtub or wheelchair accessible bathtub, Aging Safely has a very unique handicap bathtub that comes with wood cabinets built into it. These gorgeous cabinets can be utilized for storage or removed for disability lift access. Walk in bathtubs and handicap shower systems may not provide the options that are desired for all bathers. Likewise some customers may not have use of their extremities, making entrance into a walk in tub very difficult.
This specialty wheelchair accessible bathtub is an IAPMO certified product and is manufactured in the United States. The unique design makes it ideal for bathers that are in a wheelchair or shoppers seeking a bathtub in which they can transfer into. Customers can have the option to add air hydrotherapy or whirlpool jetting as additional luxurious features.
According to Aging Safely, the ADL Spa even has a built in backrest heater to help keep bathers warm while the bathtub is filling and draining. All of the senior bathtubs offered by Aging Safely come standard with lifetime door seal warranties. Additionally shoppers can add an anti-scalding device, which can help regulate the water temperature entering the bathtub; without having to set the temperature every time a bather enters. This special warm air hydrotherapy bathtub adds a new dimension to the company's walk in bathtub line and stands out from most transfer bathtubs on the market.
In some cases, customers can add additional safety grab bars along side of the transfer bathtub and by the entrance. This can potentially provide extra stability when bathers are entering or exiting the bath. Caretakers may find this transfer bath ideal as well due to the easy access side panels, whereas walk in bathtubs have a low step in and a built in seat. The wheelchair access bathtub doesn't have a built in seat and potentially allows for bathers to fully submerse there body. Despite the abundance of bathing space, it is important to make sure body size is conducive to the limitations of this specialty bathtub.
This contemporary transfer bathtub proves that aging in place products can be stylish and beautiful. Many of the walk in bathtubs that are on the market have an institutional feel, so a handicap bathtub that actually looks great too is highly welcomed. The company supplies specialty bathing products designed for senior citizens and the disabled to all fifty States and Canada. Also nursing homes, assisted living facilities, plumbing contractors and senior communities are invited to contact a representative for reduced pricing. Customers that would like more information on the handicap accessible transfer bathtubs, hydrotherapy walk in bathtubs, handicap shower stalls or safety grab bars can call or email Aging Safely for a no cost consultation.
Contact Information:
Zachary Wennstedt
1-888-779-BATH(2284)
info(at)Agingsafelybaths(dot)com