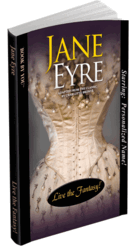 Celebrate teachers everywhere with personalized classics from BookByYou.com
(PRWEB) April 30, 2013
Teachers have one of the hardest and most rewarding jobs, and touch the lives of almost every one of us. What better way to honor such an influential person than by presenting them with their very own, one-of-a-kind personalized classic from Book By You?
Book By You has a wonderful selection of personalized classic novels to choose from. The newest release, Charlotte Bronte's JANE EYRE, will captivate the hearts of romantics everywhere as they step into the beloved roles of Jane Eyre herself, or the mysterious, mercurial Mr. Edward Rochester. Book By You also features fully personalize-able versions of four of Jane Austen's love stories; EMMA, SENSE & SENSIBILITY, NORTHANGER ABBEY, and of course, PRIDE & PREJUDICE. For fun-loving teachers, classic adventures are also available: fly away to Never-Never Land in J.M. Barrie's PETER PAN, take a trip down the rabbit hole with Lewis Carroll's ALICE IN WONDERLAND, sail the high seas with Robert Louis Stevenson's TREASURE ISLAND, or rob from the rich and give to the poor in THE ADVENTURES OF ROBIN HOOD. For mystery loving teachers, Book By You boasts two of Agatha Christie's most famous puzzlers, THE SECRET ADVERSARY and THE MYSTERIOUS AFFAIR AT STYLES, as well as the thrilling & witty favorite, Sir Arthur Conan Doyle's THE ADVENTURES OF SHERLOCK HOLMES. For professors who lean toward the dark and dramatic, Book By You offers the chilling and thrilling PHANTOM OF THE OPERA, and the classic of all vampire novels, Bram Stoker's DRACULA. Also available are Frances Hodgson Burnett's beautiful tale, THE SECRET GARDEN, and THE FAIRYTALE PRINCESS COLLECTION, a crowd-pleasing compilation of favorite fairytales for princesses of any age.
Celebrate Teacher Day with a personalized classic that she or he will treasure forever. Teacher's Pets can personalize their selection by providing specific information like teacher's names, features, even favorite drinks and places, and over twenty-five other unique characteristics to make dreams come true. A spouse, friends, family, and even a pet can be included, too. The result is a full-length personalized classic novel, available in ebook, paperback or hardcover, that can be further personalized with a customized cover and individual photo for the back cover, making this the most unique gift imaginable.
Book By You's entire personalized collection is now also available as personalized ebooks. Personalized ebooks are available for download immediately upon ordering. To make them especially unique, each ebook includes a free photo upload feature. Add a personalized dedication, and the result is a remarkable ebook that can be taken anywhere and read any time.
To purchase a personalized classic or any of Book By You's other titles, readers go to the company's website at BookByYou.com and complete a character questionnaire specifying the information to be included in their book. The company offers a free demonstration area where readers can preview personalized excerpts from any of the company's classic, teen, romance, mystery or children's personalized books.
BookByYou.com has received national media coverage and has been featured on ABC's The View, CNN, Fox News, The Wall Street Journal, Jimmy Kimmel Live and many additional media outlets.
BookByYou.com is an interactive publishing company and the world's largest provider of personalized books. Media interviews, promotions and give-aways are available upon request. Please contact Michael Pocock at 1-877-898-1440 or publish(at)BookByYou(dot)com