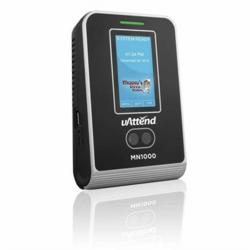 With its reduced price, the MN1000 is poised to become the most affordable time keeping system with face recognition functionality.
Somerset, England (PRWEB UK) 30 April 2013
Access-to-Time, the leading marketers of uAttend Employee Management Systems in the UK, have announced a huge reduction in the price of MN1000 UK time clock with facial recognition capabilities. First launched in February this year, the face recognising workforce solutions took the UK marketplace by storm. Witnessing the huge response and to dominate the facial biometric solutions market by capitalizing on this response, Access-to-Time has decided to reduce the price of these systems. Previously offered at £349, these time keeping solutions will now be available for an astonishingly affordable price of £219.
Access-to-Time has been tremendously successful with the launch of every other uAttend workforce management solution in the UK and the success of MN1000 adds another feather to their cap. Access-to-Time now enjoys a prominent position at the forefront of employee time and attendance systems market in the UK thanks to the affordability and feature-rich attributes of the uAttend system.
The MN1000 functions by making use of sophisticated facial recognition firmware to verify the employees' identity and clock their time and attendance by just smiling into the terminal of this advanced facial recognition system. These face recognition time clocks are ideal for construction companies, manufacturing industries, heavy metal industries, and all the other niches where it is difficult to clock employees due to damaged fingerprints as a result of hard labour. In addition, these facial recognition solutions are also being sought by organisations where hygiene is a concern and employees don't have to share a fingerprint terminal. With the MN1000, employees have no need to come into contact with the actual device making it the most hygienic time and attendance tracking method available today in the UK. Another great feature of MN1000 is that it has been designed to even work in the dark.
Businesses can have up to 100 employees clocked in with the MN1000 face recognition time and attendance clocks. In addition, they have the added ability of clocking unlimited number of employees using traditional options such as RFID card readers and PIN pads. This provides multiple clocking options for local businesses to use the same device to enroll an unlimited number of employees without having the need for multiple devices.
MN1000 UK time clock with facial recognition and touch screens similar to other uAttend units can be set up easily by anyone even with a limited computer literacy. The unit can be up and running in a matter of minutes enabling tracking, recording, and reporting of employee time and attendance. With the extremely handy plug and play Internet connectivity, employers and HR managers can access the payroll data from anywhere in the world.
With its reduced price, the MN1000 is poised to become the most affordable time keeping system with face recognition functionality. Access-to-Time is counting on this move to help them fully dominate the UK time and attendance marketplace and equip local businesses with affordable payroll solutions.
While announcing the big news, Alastair Slade, Director of Access-To-Time said, " Now there is a means for any employee to clock using biometric measurement, even those with difficult to read finger prints. This makes the MN1000 an excellent choice for employee time and attendance. Readers of this press release can gain a further discount by using the code DHAJ3 in the checkout making the terminal only £199.00!"
Access-to-Time, based in Somerset, helps businesses and organisations to save time and money by efficiently managing their workforces' attendance using powerful Time and Attendance (T&A) systems. The company is working to change the way we do T&A.
Access-to-Time provides computerised T&A systems plus expert advice and reliable on-going support to employers from all types of businesses and organisations who are managing 5 to 5000 plus employees. Its clients enjoy stress-free monitoring of working hours and absences, time-savings and reduced payroll costs, with savings of at least 2 per cent of payroll being demonstrated when a T&A system has been implemented.
For further information please contact:
Jacqui Southway
Crackerjac PR
Tel: 01454 201869 / 07747 804703
Alastair Slade
uAttend/Access-to-Time
Tel: 01761 410015 / 07714 898902