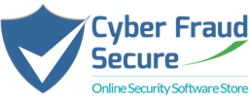 Cyberfraudsecure.com offers large range of popular security software for Windows, Mac and Mobile Phones
Dubai, UAE (PRWEB) April 30, 2013
Cyberfraudsecure.com today has announced the launch of its Security Blog that will keep the customers updated about the latest security software products and cyber threats from malware, hackers, spam etc. that are capable of catastrophic consequences. The Blog section bifurcates into two sections where one covering the security news and updates and the other informing visitors on the reviews on each showcased product.
The webstore comprises of most notable security software brands covering up various categories such as Antivirus, Anti- spyware, Anti- keyloggers, Anti- Spam, Parental Control and many more.
"Cyberfraudsecure.com Blog strives to deliver the latest analysis and insights into the evolving security threats in cyber space and its cost-effective solutions by a dedicated research team to help keep our customers` well equipped in order to defeat the latest malware trends," said Regan Simone, spokesperson of CyberFraudSecure.com.
He went on to say that, "Moreover, an internal Review section by our knowledgeable experts on each product will help the customers in gauging more precise information on the product including the product`s installation, setup, functionality and cost effectiveness. Our aim is to provide a hassle- free experience to our customers so that they can protect all their systems effortlessly without worrying about their security."
About CyberFraudSecure.com
CyberFraudSecure.com offers a large range of popular security software for Windows, Mac and Mobile Phones (Smart phones).
CyberFraudSecure.com is a sub division of Estel Technologies and Rechargeitnow.com, where, Estel Technologies specializes in Mobile Financial Services, Rechargeitnow.com delivers next generation online-prepaid recharge solutions.