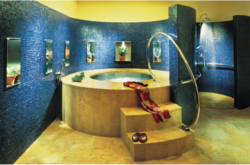 Mission Tile West, a leader in artistic tile design, is inviting visitors to explore its new website. The new website showcases the many ways in which tile can enhance the look of your home or business.
Pasadena, CA (PRWEB) April 30, 2013
Mission Tile West has launched a brand new website that enables visitors to see how tile in Santa Monica can change the look and feel of an interior or exterior space. Guests can view the company's immense collection of tile in Pasadena, which includes designs created by the company as well as other well-known designers and manufacturers. Online tools help visitors put together a look that is unique and eye-catching.
Tile in Costa Mesa, has become a popular material for modern home and business owners and comes in a variety of styles, colors and materials. While originally reserved for religious buildings, palaces, and stately homes and manors, many people like it because it is easy to care for and enhances any kind of space that it is placed into.
Because Mission Tile West understands how important it is to choose the right tile and design, they have launched a new website that showcases the collection of tile in Pasadena that they carry. The design gallery allows visitors to find exactly what they want, whether it is Spanish tile to complement a historic home, glass mosaic tile to make a contemporary bathroom pop with color, or a historic reproduction tile in an art nouveau motif.
Other types of tile include:

Hand-painted tile
Mediterranean tile
Vintage tile
Malibu tile
Hexagon tile
Terra cotta tile
Each type of tile in Santa Monica comes in a number of colors and patterns, making it easy for visitors to mix and match tiles to create a custom look. The company has even created a separate gallery for their own designs where visitors can view revival tile such as Colonial, Kimono, and the 1960's era.
Also included on the new website for Mission Tile West is a gallery of photographs showing past tile projects they have completed for clients, including fireplaces, bathrooms, kitchens, outdoor spaces, commercial areas, floors, living rooms and even staircases. The photos show the many ways in which tile can be used to beautify a formerly quiet space.
To view these beautiful creations, visit their website at http://www.missiontilewest.com.
About Mission Tile West:
Mission Tile West was created by John and Dina Adamson with their son and his uncle in 1984. Today, the company is still family owned and operated, running two tile factories and three showcase locations where clients can find a wide array of tiles for their home, garden and commercial space. Customers can come into the showroom to view the tiles in person and meet with in-house designers to create the one-of-a-kind look they want for their home or business.
To view the gallery of beautiful tiles they offer, visit their website at missiontilewest.com.