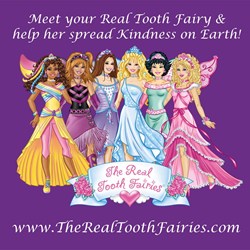 Even though we forecast 13-14 million unique visitors by the end of 2013, statistics show tremendous room for growth beyond that.
Wilmington, NC (PRWEB) April 30, 2013
Royal Council of the Real Fairyland announced today that unique visitors to the company's award-winning website - http://www.therealtoothfairies.com - has topped the 7 million mark. A nearly 600% year-over-year growth that has seen traffic explode with visitors from over 200 countries around the world.
The Real Tooth Fairies is an award-winning entertainment property for girls that delivers the complete Tooth Fairy experience. At the same time, it answers everything the world has wanted to know about the celebrity with the mysterious identity, the Tooth Fairy. Entering this magical interactive world, girls first get matched to their own Tooth Fairy with an enchanting reveal of her talking to them. This begins a heart-warming friendship that takes place both in a girl's real world with magic pillow deliveries and also with the girl playing in the Tooth Fairy's world.
"The Tooth Fairy is one of the most recognizable characters in the world," says Marilyn Bollinger, President of the Real Tooth Fairies, LLC. "With every girl losing 20 teeth, the Tooth Fairy is already making almost 250 million visits to girls' homes in the United States alone. With major English speaking countries, it nears 600 million. That's why, even though we forecast 13-14 million unique visitors by the end of 2013, statistics show tremendous room for growth beyond that."
Bollinger is the author of 30 Disney books and has consulted for LeapFrog, Fisher-Price and other top children's companies. As a licensed clinical social worker, she's practiced family and children's therapy and led parenting workshops. And of course, she's honored to be the Earth's ambassador to all things Real Fairyland, where Love is Magic and Every Kindness Counts!
Since assuming this role, Bollinger has recruited some top-flight Earthie friends to make sure the interactive world is a huge success. They include top executives formerly with Mattel, Hasbro and Disney Interactive, an award-winning children's book author and other experts from the toy and entertainment industries.
"Girls love to spend time with their Real Tooth Fairy on the website and so many parents tell us about the positive impact the experience has on their girls' lives – even how it translates to improved school performance," says Bollinger. "And the girls take the lessons they learn right back to Earth by spreading kindness at home and at school." In fact, The Real Tooth Fairies Kindness Kits have been honored by Creative Child Magazine, with its "2012 Kid's Product of the Year Award" and by Dr. Toy with the "Top Ten Toys of the Year" in the socially responsible category. The Kindness Kits are an extension of the online Every Kindness Counts program that tracks the kind acts girls pick on the website as they do the kindness in their families and communities.
When an Earthie Girl, as girls are called by the Tooth Fairies, enters the gates of Real Fairyland - http://www.therealtoothfairies.com - she'll create her own Lost Tooth Garden, see where her Tooth Fairy takes her lost teeth, make her Dream Tree that shows her dreams and talents, float down the Magic Streets to see other Earthie girl visitors, and play games like Poof Potion Shop and Make-Over Magic. She'll take a ride on a Magic Unicorn she designs herself, and discover the award-winning storybook series that tells the courageous and kind act that each fairy did to become a Real Tooth Fairy. Girls and parents alike are excited to discover the 20 Lost Tooth Virtues – each lost tooth brings a virtue flower like teamwork, listening, and patience from the Queen's Virtue Garden. And families love the humorous "How To Brush Your Teeth" webisode that motivates every girl to brush for a glowy smile. After watching this, brushing each day brings guaranteed giggles.
Families can even find an official Real Tooth Fairy Dentist in the US, Canada, South America and India. Most importantly, girls are interacting in a certified Kid-Safe play environment with other Earthie Girls from 200 countries. As a result of the plethora of features, when girls discover this world, they stay and immerse with an average of 11 to 12 page views per visit, which speaks to the engagement the girls have with the brand, as they return over and over again.
About The Real Tooth Fairies
The Real Tooth Fairies are represented to Earthies by the Royal Council of the Real Fairyland, LLC, an entertainment company dedicated to excellence in programming and interactive media. Their consumer products inspire imagination, foster creativity, and encourage children to spread kindness and change the world. The Real Tooth Fairies focus on character building through positive role models, the 20 Lost Tooth Virtues, and Every Kindness Counts. In addition, a school kindness program involves students in a two week program wherein kids are heroes for kindness in their family, school, and community while supporting a global charity.
Learn about the Real Tooth Fairies at http://www.TheRealToothFairies.com/guest-services/about-us.
Girls can Get Matched to their Tooth Fairy at http://www.TheRealToothFairies.com/registration.
Girls can ask their tooth fairy to fly personalized tooth fairy letters to their pillow at http://www.TheRealToothFairies.com/ask-magic-letters.
Shop for treasures at The Real Tooth Fairies Magic Street Shops at https://shop.therealtoothfairies.com/.
To spread Kindness in your family today go to http://www.therealtoothfairies.com/kindness.
Parents, to arrange for a personalized Tooth Fairy letter on your girl's pillow go to http://www.therealtoothfairies.com/for-parents/magic-letter-login.