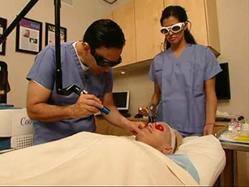 Los Angeles, California (PRWEB) April 30, 2013
According to a recent article on Allure magazine's website, advances in cosmetics have afforded cosmetic dermatologists the ability to help their patients look and stay younger. Treatments such as hyaluronic acid fillers and Thermage can fix the damage caused by the ravages of time and prevent further visual signs of aging (Go to goo.gl/fP25o).
"The Allure feature provides a good overview of some of the options available to me to help reverse the visible signs of aging," says Dr. Simon Ourian, Medical Director of Epione Beverly Hills.
According to the report, sclerotherapy is a procedure to treat spider veins. In the past, doctors had to use saline solution, which caused discomfort. New drugs are available now that can be injected with a tiny needle, no wider than a strand of hair. Discomfort is minimal and no downtime is required
Skin sags with age and wearing earrings can cause drooping or elongation. Cosmetic dermatologists can make their patients' earlobes appear smoother and rounder with dermal filler injections that can last for six months to a full year.
The report notes that radio-frequency waves are being used to correct droopy skin by sending end sound waves deep into the skin to create microscopic fissures. This minor disruption hastens collagen production and firms up any sagging or loose areas on the face, jowls, knees, or neck.
"As one ages, the nose flattens and widens," says Dr. Ourian. "With a hyaluronic acid based dermal filler I make one's nose instantly look younger by injecting into the bony line down the center of the nose. This can make it look slimmer and hide bumps or imperfections."
Dr. Ourian has been a pioneer in laser technology and non-invasive aesthetic procedures including Restylane, Juvéderm, Radiesse and Sculptra. These treatments are used for the correction or reversal of a variety of conditions such as acne, acne scars, skin discoloration, wrinkles, stretch marks, varicose veins, cellulite, and others. More information about these new cosmetic treatments can be found on Epione's website.