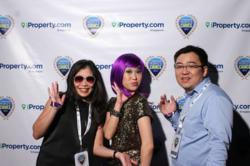 We organised the People's Choice Awards to gain more insight into condominium buyers' preferences.
(PRWEB) April 30, 2013
It used to be the case that Singaporeans purchased suburban condominiums because they could not afford properties in District 9, 10 and 11, but the winners of iProperty's (http://www.iproperty.com) inaugural People's Choice Awards are proving that it is no longer all about the price. Suburban condominiums Outside the Central Region (OCR) bagged the most awards (eight awards), followed by condominiums in the Core Central Region (two awards). The OCR covers suburbs such as Punggol, Woodlands and Jurong, where mass-market condominiums are located.
Mr Sean Tan, General Manager of iProperty.com said, "We organised the People's Choice Awards to gain more insight into condominium buyers' preferences. From our recent Consumer Sentiments Survey, we learnt that location, price and security are the fundamentals of property selection in Singapore. However, we wanted to probe further, and find out if there are other underlying pull factors independent of these conventional categories. Voters could vote for whichever properties they felt were most deserving of the awards. Unlike real-life buyers, they were not constrained by price, so it is quite insightful to find suburban condominiums holding their own in the popularity stakes."
The Palette, located within walking distance of Pasir Ris MRT Station, came up tops for being an "Object of Desire", that is, the condominium with the best architecture.
Mr Chia Ngiang Hong, Group General Manager, City Developments Limited (CDL) said, "The Palette is unique for its impressive façade that melds modern and clean lines with an elegant, wave formation that cleverly serves its practical purpose of offering enchanting views for every resident. Its generously appointed ground provides for a lush and beautifully sculptured terrain replete with palm trees and soothing waterscapes, yet filled with an array of amenities. We owe the award largely to the unique design concept of a suburban idyll."
Voting for the People's Choice Awards took place from 1 December 2012 to 6 January 2013. Over 600 voters participated in the process. The complete winners list can be found in Appendix.
Scenic river/seafront views trump city skyline for jaded cosmopolitans
Singapore may be famed for its gorgeous skyline but its residents prefer to retire to the suburban idyll of a condominium with scenic river/seafront views. H2O Residences by CDL won the "Take My Breath Away" award for the condominium with the best view.
Mr Chia said, "Nestled in the heart of Sengkang New Town, "H2O Residences offers breathtaking, unobstructed views of lush surroundings and charming waterways. It is designed to blend seamlessly with the surrounding water bodies and park – the first-of-its-kind development in Singapore that connects residents to an active, riverfront lifestyle. The award reflects condominium buyers' appreciation for a greener and more vibrant riverfront living."
According to Mr Getty Goh, Director of real estate research company Ascendant Assets, Singaporeans are becoming more "discerning about their condominium choices, beyond the standard criteria of location and price." He said, "With 13,308 new private condominium units rolled out in 2012, and about 16,439 more in 2013, buyers are spoilt for choice. They are no longer interested in garden variety condominiums offering a tennis court and swimming pool. Increasingly, they are looking at unique identifying features such as the architecture or developments that best embody their values, such as environmental consciousness and lifestyle habits. For example, some condominiums now feature rock-climbing walls and golf simulators to cater to sports enthusiasts.
"Price, location and size are no doubt still the top draws for condominium buyers, however, since 2011Q2, we have observed a higher proportion (up to 70% in 2012Q1) of consumers gravitating towards the Outside Central Region for the "suburban appeal," said Mr Goh.
For today's contemporary urban dwellers, however, condominiums in the Core Central Region are still the top draws. Altez, located within the CBD and developed by Far East Organization, bagged the award for "Condo which is best for singles".
Ms Shaw Lay See, Director for Property Sales, Far East Organization said, "Buyers are interested in well-conceived products of value in an excellent location. With Altez apartments sized and designed in line with compact downtown living in major cosmopolitan cities such as London, Manhattan, Paris, Tokyo and Hong Kong, it has all the makings of a well-conceived urban product created to offer sophisticated, comfortable and exclusive city centre living. Aside from its distinctive facilities and panoramic views at 62-storeys high, Altez is attractive to time-starved cosmopolitan city dwellers and homeowners who enjoy the excitement of living in the city."
Altez is next to Tanjong Pagar MRT station and is a short walk to the new downtown at Marina Bay. Located in the heart of Singapore means it takes no time at all to travel anywhere, be it to the newest gourmet restaurant in town, the trendiest shopping destination or the hottest nightspots.
Mr Tan summed it up, "Judging from the winners list, we have a clear trend of families as well as an increasing number of cosmopolitans voting for the rusticity of suburban condominiums, while those attracted to the pulsating energy of Singapore's city life are drawn to developments in the Core Central Region.
Our 10 award categories may be quirky and playful, but they are relevant and have confirmed the increasing sophistication of property market participants. This bodes well for the property development scene, and will provide the inspiration for it to stay vibrant and relevant."

About iProperty.com Singapore (http://www.iProperty.com.sg)
iProperty.com Singapore is Singapore's leading real estate website. Each and every month, iProperty.com helps tens of thousands of Singaporeans, expatriates and foreigners find their dream homes or investment properties. The portal provides the largest database of the most up-to-date listings to help you make informed decisions. iProperty.com is also the official partner of the Singapore Institute of Estate agents (IEA), and MSN's exclusive property partner, powering their real estate channel.
About iProperty Group Limited (iproperty-group.com)
Listed on the Australian Securities Exchange, the iProperty Group (ASX:IPP) owns and operates Asia's No.1 network of property websites under the iProperty.com umbrella brand. Headquartered in Kuala Lumpur, Malaysia, the Company is focused on developing and operating leading real estate Internet portals with other complementary offerings in Asian markets. It currently operates online property portals for consumer and business needs in the markets of Malaysia, Indonesia, Hong Kong, Macau, and Singapore, and has investments in India and Philippines. Most of its sites are ranked first in their respective markets. Along with 18 property websites around the region, the Group's portfolio also includes the first comprehensive regional commercial property website, CommercialAsia.com, as well as a regional property exhibition business and a Malaysian monthly property magazine.
The iProperty Group Network of websites are Malaysia: iProperty.com Malaysia, Singapore: iProperty.com Singapore, Indonesia: rumah123.com and rumahdanproperti.com, India: iProperty.com India, Hong Kong: GoHome.com.hk and House18.com, Macau: vProperty.com, Philippines: iProperty.com Philippines, Commercial: CommercialAsia.com, Luxury: iLuxuryasia.com.
About Ascendant Assets Pte Ltd (AscendantAssets.com)
Ascendant Assets Pte Ltd is a real estate research and investment consultancy that specialises in providing research and analysis on the Singapore property market. The firm focuses on helping its clients make informed property investment decisions by providing research and statistics. Since its establishment in 2008, Ascendant Assets has lent its expertise to public and private sector clients, investors as well as homeowners.