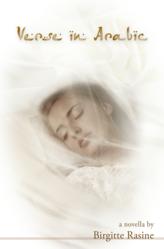 "Verse in Arabic" challenges us to revisit our own modern-day views and sentiments on terror, fear, prejudice, and cultural and religious intolerance.
Sunnyvale, CA (PRWEB) April 30, 2013
Czech-American author Birgitte Rasine's first novella, "Verse in Arabic," is a work of historical suspense set in Spain in 1946, ten years after the start of the Spanish Civil War. Ms. Rasine tells this compelling story from the point of view of an American journalist interviewing the main person of interest—a respected physician convicted of murder—21 years later. The tale unfolds in a double twist of fate that remains purposely unexplained, and is inspired by a true unsolved mystery.
The central plot of the novella was sparked by a bizarre real-life incident Ms. Rasine experienced 14 years ago while teaching English in Madrid. Verse in Arabic challenges us to revisit our own modern-day views and sentiments on terror, fear, prejudice, and cultural and religious intolerance. The book tells a timeless story of personal integrity, ethics, and honor in the face of an impossibly volatile sociopolitical climate that holds intimate implications for our own society today.
"My intent with 'Verse in Arabic' was to pull on the taut lines of major social and professional concepts we think we've got well defined, such as medical ethics, justice, and journalistic responsibility," says Birgitte Rasine, "and to make us to look at them in the light of a very different way of life: that of fascist Spain in the 1940's. The mysterious event that inspired this book can never be solved, but that's precisely what sparked such an intense interest in me to weave a storyline around it. Sometimes, even we authors cannot be privy to the core secrets we write our stories about."
Stylistically, Ms. Rasine's captivating narrative slowly builds an increasing sense of suspense and mystery, culminating in a surprisingly singular event that marks the crescendo of the plot. It's this original approach that has readers of serious fiction identifying it as a literary counterpart to Maurice Ravel's Bolero.
Isabel Campoy, a respected literary luminary, author of numerous books, and the former Senior Editor for Houghton Mifflin Harcourt, says "Birgitte Rasine is one of those writers who reminds us of all the important topics one should be thinking about daily… her messages stay in the soul… constantly. In 'Verse in Arabic,' she wants you as an accomplice, and succeeds masterfully. Madrid, medicine, innocence and crime, tall verse written for your pleasure by this brilliant author."
Don Thompson, author, playwright, and film producer, says "Birgitte Rasine's mysterious 'Verse in Arabic' pulled me in and held me from beginning to end. Beautifully written, this story continues to demonstrate that Rasine is an uncommonly gifted writer."
Verse in Arabic is now available in print on Amazon and as an eBook through major online eBook retailers such as Apple's iBookstore, Barnes & Noble, Amazon, and Kobo Books.
For media interviews, speaking inquiries, or book information please contact Lisa Orrell, Publicist for Ms. Rasine, at: Lisa(at)PromoteUGuru(dot)com or 408-340-8789. Visit Birgitte Rasine's website at http://www.birgitterasine.com
--------------------------------------------------------------------
BOOK INFO:
Title: Verse in Arabic
Release Date: April 30, 2013
Publisher: LUCITÀ Publishing, an imprint of LUCITÀ Inc.
Page Count: 102 pages.
ISBN: 978-19382840-2-1
eISBN: 978-19382840-3-8
LCCN: 2012906394
ABOUT THE AUTHOR:
Czech-American author Birgitte Rasine writes literary fiction that pulls the beauty and the pain of the human experience out into the open by their very roots. Compared by readers to Franz Kafka, Edgar Allan Poe, and James Joyce, Ms. Rasine's work cracks open the darker side of the human psyche to illuminate our eternal quest for freedom, happiness, and fulfillment. A former journalist for the Hollywood film industry, Ms. Rasine is a graduate of Stanford University and a member of various literary and professional organizations including Pen Parentis and the Association of Writers and Writing Programs. She also serves as the CEO of LUCITÀ Inc., a hybrid design and communications firm based in Silicon Valley, and sits on the Board of a Czech-Slovak non profit organization in New York City that supports young leaders in healthcare, education and the environment.