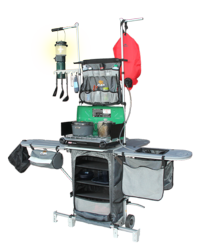 Most campsite activities revolve around food preparation, cleaning or organization and are related to the [Grub Hub] product in some way
Leeds, UT (PRWEB) April 30, 2013
Patent documentation shows the product was conceived with the idea of a camp kitchen apparatus that provides lantern stand, a kitchen sink, organizers, and tables that fold down into a compact form allowing for easy transport of all camp kitchen gear. Mr. Baughman says that "While the product has earned two patents and rapidly growing sales from the original idea we had no other name for it at the outset than "camp kitchen."
"As more users adopt the product it is being referred to as the "hub" states Mr. Baughman. "We will begin to display the product's nickname, as reflected by users, as the "camp hub" instead of just "camp kitchen" in our marketing materials and web site." Mr. Baughman states the rapid adoption of the term "camp hub" by users is no surprise considering our instinctive need to gather around a central area or object. In our homes, this is the kitchen. In a camp setting, this has evolved from a fire pit as the camping "hub" to the full featured camp kitchen, i.e. the Grub Hub, as the center of the camp site." Mr. Baughman continues, "We typically don't have fires due to dry conditions around the country and it wouldn't make sense to gather around anything else. Additionally, most campsite activities revolve around food preparation, cleaning or organization and are related to the product in some way. That puts it front and center to earn its moniker the "hub."
The company's marketing strategy will continue highlighting the product's key strength and mantra of Making Camping Easy while substituting the term "hub" in place of "camp kitchen" for many of the materials we print or publish online. Mr. Baughman says "This will require some changes to the thousands of brochures we print but it is relatively inexpensive to change website text and that is where most of the copy is written." The company will continue to focus on its target market of people that enjoy camping while pursuing outdoor activities such as mountain biking, rock climbing, fishing, hunting, off-roading, over landing, photography, kayaking, drift boating, canoeing, scouts, and music festivals.
Further to the marketing efforts Mr. Baughman says they have brainstormed a new concept that will reinforce the term "hub". "We are producing a video that starts with a caveman sitting around the fire pit in a disheveled manner then evolves the scene to a more modern version of man congregating around the "hub", as it will be dubbed in the video. The more modern man will be far more organized and much happier in his outdoor surroundings."
While the marketing strategy will be updated for the second half of 2013, Mr. Baughman says the product itself will only undergo minor engineering changes in the next production run. According to Mr. Baughman, "The Grub Hub currently meets the needs of just about every type of camper, from families with young children to Burning Man, and is proving to be very reliable in real outdoor use and there is no reason for immediate change as a result of the current marketing feedback."
GrubHubUSA is located in the greater St. George, Utah area where the southwest mountains and canyons provide inspiration for developing exceptionally functional and reliable outdoor gear. The company was founded in 2004 and offers its flagship product, the Grub Hub, through a growing list of store front and online retailers. For more information please visit http://www.grubhubusa.com or call us at 435-705-1773. Like us at facebook.com/GrubHubUSA.