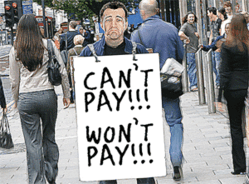 We would strongly urge everyone to pay their minimum payment if they have any means to do so.
London, UK (PRWEB UK) 30 April 2013
"UK consumers are skipping repayments on borrowing and banking real problems for their future", so says leading price comparison website compareandsave.com.
Prompted by findings from a recent poll by credit reference agency Experian reported in the Telegraph, which shows a trend for UK consumers to skip borrowing payments appears to be on the rise, a spokesperson for the site went on to offer this stark warning.
"In skipping borrowing payments consumers really are playing with fire! People need to understand that a 'credit history' is exactly that. It's one of the most important elements lenders consider when deciding what credit terms to offer you. Skipping a payment or two now could cost you dearly and have a serious impact your ability to obtain favourable credit in the future."
Experian noted that more people are struggling to afford their repayments now, as almost half (45%) of those that had missed a payment had done so within the last 12 months, and 25% between one and two years ago.
Perhaps even more alarming is that, of the 3000 polled for the Experian study, 19% claimed they had "purposely missed" a payment in the previous six years because they did not have the money to pay it. The repayments missed were across a range of products, including credit cards, loans and overdrafts and, given that they remain on an individual's credit file for six years, could seriously hamper the individual's concerned chances of borrowing in the future.
Figures also showed that 14% of UK consumers surveyed only ever make the minimum repayments. This resulted in them repaying back a much higher amount due to the additional interest charges. Paying back the minimum can affect someone's ability to access affordable credit, as well as missed payments, as lenders may assume that the borrower is in financial difficulty.
The compareandsave.com spokesperson offered these words of guidance:
"Many of us are struggling at the moment, but we would strongly urge everyone to pay their minimum payment if they have any means to do so. If people are really struggling, they should speak to their issuer as soon as possible. The worst thing would be to simply bury ones head in the sand and hope it will go away – a proactive attitude always indicates good money management to lenders."
compareandsave.com is one of the UK's leading personal finance comparison websites. Based in Colchester, Essex, compareandsave.com has been helping UK consumers get a better deal on credit cards, savings accounts, personal loans and more for over five years.