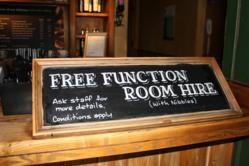 A free solution to distributing a pub's latest offers should never have been seen as a burden. The burden was getting customers to follow a virtual profile and that has been overcome
London UK (PRWEB) April 30, 2013
The British Pub and Inn Accommodation Guide Pub Rooms managed to rescue the Pub Inn Guide that was previously run by internet designers specializing in pub website design including PDF menu designs. Pub Rooms Marketing Director Peter Jones explained that "Pubs and Inns across the UK truly understand the new way of internet marketing and just want affordable access to high footfall websites to increases in footfall in real life. The 1000's of pubs we have spoken to over the last 5 years demonstrate that the internet plays a very important part in future marketing by how good their own websites are. Most have had to wade through plenty of white elephants to achieve their understanding of internet marketing for hospitality, which included giving away offers they could not afford on sites like Groupon."
PJ explains, there are two approaches to advertising, "you either pay to be in high profile media channels because you have a good strong brand and something tangible to sell (eg Rolex watch) or you spend locally and ensure your local market takes you up on the offers. Both can be expensive but given you're either selling watches or a meal for 2 at the price for 1 the position of ads plays it tune to your respective market place." But here lies the problem explains PJ, "most pub listing sites charge a fortune for static information on the premise they get a lot traffic. Times have changed, propositions are new and fresh. Twitter allows business owners the chance to advertise for free to their followers and extended reach. Whilst pub owners previously turned their noses up at this new found technology it's now becoming a blessing to their survival". A free solution to distributing your latest offers should never have been seen as a burden.
The Pub Inn Guide launches next month June 2013 and will provide dynamic content from integrated social media channels Facebook and Twitter. It's exciting times for pubs and inns that have great offers and don't want to give away their hard earned profits by paying to be included on directory websites that simply don't work.
For more information contact Peter Jones 084523881071