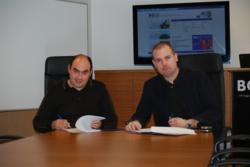 Mr. Benedikt Hjálmarsson, CEO and Founder of BG Cleaning Systems International, states, " We are excited to be in the South Caucasus Region and in the CIS (Commonwealth of Independent States).
Baku Azerbaijan (PRWEB) April 30, 2013
BG Cleaning Systems, the international multifaceted cleaning and facility services provider forges full speed ahead with its global expansion by entering the emerging market of Azerbaijan this Spring 2013.
BG Cleaning Systems was founded in 1995 in Iceland, one of the cleanest countries on earth, by a young and daring entrepreneur, Mr. Benedikt Hjálmarsson. Mr. Hjálmarsson is currently the CEO of BG Cleaning Systems International and the visionary of this international corporation reputed for trustworthiness, high quality standards, flexibility, state-of-the art cleaning technology, and its unique, dynamic systems and concepts.
TIS Azerbaijan has been granted the BG Cleaning Systems Master Franchise for the Republic of Azerbaijan. Led by its very able and dynamic Director, Mr. Karim Mammadov, a young but experienced business entrepreneur, BG Cleaning Systems Azerbaijan will be introducing a unique, cutting-edge cleaning and facility services concept with higher standards of quality into the market.
BG Cleaning Systems Azerbaijan will be affording Azerbaijan a broad range of cleaning and facility services. They will be providing both Janitorial and Specialized Cleaning Services for all types of facilities, ranging from SMEs to large corporations, shopping malls, movie theaters, sports centers, hotels, hospitals, schools, public and private institutions, government offices, factories, stores, restaurants and much more. In order to augment these cleaning services, BG Azerbaijan will also be offering Facility Services.
BG Cleaning Systems Azerbaijan will be using chemicals, supplies, equipment and machines from trustworthy and cost-effective brands and suppliers approved by BG Cleaning Systems International. They will also be following the strict Quality Control Management System imposed by BG Cleaning Systems to ensure a consistent and excellent standard in the services provided.
According to BG Cleaning Systems Azerbaijan's General Manager, Mr. Khayal Hamidov, "BG Azerbaijan will cater to each client's needs and requirements by providing the right solution for each cleaning issue. All our BG Cleaning Solutions and Programs offered will be tailor made according to each customer's exigencies. We will be deploying professional staff that are intensively trained according to BG Cleaning System's strict international standards."
Mr. Benedikt Hjálmarsson, CEO and Founder of BG Cleaning Systems International, states, "We are excited to be in the South Caucasus Region and in the CIS (Commonwealth of Independent States). Azerbaijan is a developing market and its construction boom opens a world of possibilities for our industry. As a unique combination of Asia and Europe, Azerbaijan gives us the opportunity to combine the strengths of both East and West to enhance the uniqueness and flexibility of our systems and concepts. Here at BG, we aim to continuously refine and improve our business systems for the betterment of the services provided. In doing so and by providing reliable, consistent and excellent standards of quality services coupled with current, state-of-the-art cleaning systems, we ensure customer satisfaction and a cleaner future for everyone."