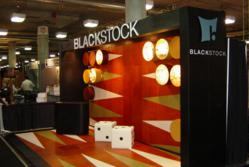 Blackstock tiles may be installed using our innovative magnetic system or traditional adhesive method.
Toronto, Ontario, Canada (PRWEB) April 30, 2013
It is interesting that Blackstock derived the name of Silk Road leather floor and wall tiles for the product that is designed and produced north of Toronto Canada. Turkey was one of the starting points for the trading routes linking Asia and European continent which became known as the Silk Road. Recognized for international leading quality, it is shipped from there around the world.
Blackstock has been specializing as one of the leading leather floor and wall tile companies for many years. Some of the leading innovations have included the first Magnetic adhesion system for leather floor tiles. In addition the Tapestry collection from Blackstock was introduced over seven years ago to give magnetic leather wall tiles a place in design history. Using mineral tanned leather for the wall tiles expands the use of leather as a wall covering by enabling the tiles to be secured to any wall surface that will accept paint on the substrate.
The use of mineral tanned leather for the Tapestry collection also gives a wider variety of colors to be used, in addition to different textures available as well. Leather floors and walls have a long history in the interior design of residences and places of work. From palaces to the common home there is a place for it to comfort the occupants. It coddles and sooths with the wonderful subtle aroma of leather, plus a host of other properties that stimulate the human senses. Human kind has utilized leather for more uses than any other single product known. It has helped bring evolution through all cultures on the planet. It is only fitting enjoying one of the renaissances of leather, that it be used for decoration and integral design to enhance any interior for years to come.
Blackstock leather tiles are designed and manufactured in a renovated schoolhouse north of Toronto Canada. The tiles are shipped around the world from the Middle East to Hong Kong and all over Europe and North America. A family owned company Blackstock can meet all of the design professionals needs. http://www.blackstockleather.com.