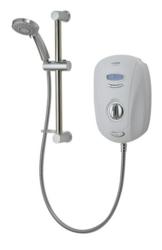 (PRWEB UK) 30 April 2013
The sophisticated GSX range, which comprises three showers, was launched in summer 2012 and is being discounted for the month of May. The range is exclusively available to buy online and customers can save up to £30 for the mid-range GSX Plus. The three electric showers, the GSX, GSX Plus and GSX Deluxe, are priced from only £79.99 from the 1st of May until the end of the month, and all three models come with free next working day delivery. All three showers have a range of features, including four temperature settings, a low-pressure warning indicator, helpful should there be any water supply issues, and each model comes complete with an adjustable height, 3 spray pattern shower head.
Gainsborough's GSX electric showers are safe and easy to use for the whole family, giving complete peace of mind. The choice of simple push buttons (GSX Plus and GSX Deluxe) or manual rotary controls (GSX) mean that selecting a heat setting couldn't be easier. Furthermore, enhanced controls, LED illumination on the GSX Plus and an LCD display on the GSX Deluxe, provide visual reassurance to the user. The two year parts and labour guarantee offered by Gainsborough gives extra peace of mind.
Each GSX model is supplied with a three spray multi-mode shower head to offer versatility to the user. They can provide a refreshing shower first thing in the morning, or a relaxing wind-down shower later in the evening, depending on the preference of the user.
The stylish glossy white design of the showers means that they can complement both contemporary and more traditional style bathrooms. Chrome and white detailing adds that extra something to finish off the look.
Gainsborough GSX Electric Shower – Fantastic Value For Money
A fantastic choice for a new electric shower, the robust GSX 8.5 couldn't be easier to use. The rotary style controls and the LED 'power on' button and low pressure warning light ensures safer showering for the whole family. Available from just £79.99 for the month of May, the GSX 8.5 offers fantastic value for money.

4 heat settings – including a cold setting
Easy-glide, rotary controls to adjust heat settings
8.5kW power unit
LED light indicates power on
Low pressure warning light
Comes complete with an adjustable height shower rail and 3 spray handset
Audible 'click' on handset identifies change from one spray pattern to another
Finished in white with white/chrome riser rail and white handset
2 Year Parts and Labour Guarantee
May Offer Price £79.99 (reduced from £89.99)
Gainsborough GSX Plus Electric Shower – A Great Family Shower
For those looking for a little something extra, the GSX Plus 8.5 offers some helpful upgrades. User-friendly features, such as illuminated push button controls, an intuitive automatic heat setting switch down and intelligent phased shutdown, help make the GSX Plus a great choice for family bathrooms. These safety features ensure that the GSX Plus will automatically switch to a lower setting if a dangerously high heat setting is selected by the user, and hot water left over at the end of a shower is flushed from the element when the shower is turned off – ensuring the next user doesn't receive a burst of hot water.

In addition to GSX Electric Shower features:
Intelligent, automatic heat setting switch – prevents dangerously high heat from being selected
Intelligent, phased shut-down
Memory setting – if the GSX Plus is not isolated from the electricity supply after use, it will use its most recent heat setting
Finished in white with a white/chrome rail and chrome handset
May Offer Price £89.99 (Reduced from £119.99)
Gainsborough GSX Deluxe Electric Shower – A Luxurious Choice
Those looking for a little luxury in an electric shower should look no further than the GSX Deluxe 8.5. Packed with safety features, including automatic heat setting switch down and phased shutdown, along with simple to use push button controls and a crystal clear, easy to understand LCD display, the GSX Deluxe is family-friendly as well as luxurious.

In addition to GSX Plus Electric Shower features:
Illuminated LCD display that indicates actual shower's temperature**, shower duration, active heat setting, power on, low pressure warning indicator and error messages
Finished in white with a chrome rail and co-ordinated, chrome handset
May Offer Price £119.99 (Reduced from £139.99)
** note that actual temperature will be shown approximately 2°C higher than at handset.
All special offers on the GSX range are available from the Gainsborough Showers website until 31st May 2013.