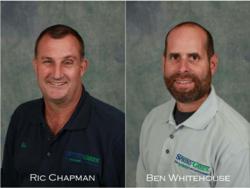 Plainfield, IL (PRWEB) April 30, 2013
Spring-Green Lawn Care welcomed two new franchisees this month in the greater Charlotte, N.C. metro area. Ben Whitehouse of Fort Mill, S.C. is launching a new location, while Ric Chapman of Monroe, N.C. is a new franchisee who acquired part of an existing territory.
Whitehouse, whose new location will service the Fort Mill, S.C. and Pineville, N.C. areas, is a green industry veteran who owns his own independent lawn care company, Whitehouse Lawns. He became a Spring-Green franchisee in order to diversify his business portfolio, citing the company's solid business model and extensive franchisee support system.
"I wanted to scale out my business more than I've been able to do on my own," Whitehouse said. "Visiting the corporate office and seeing the way the different departments – marketing, business planning, the call center, and the corporate team as a whole – work together to make a strong, successful franchise drew me to Spring-Green."
Ric Chapman purchased an existing franchise that serves Charlotte, N.C. as well as neighboring Matthews and Monroe. He had always been passionate about lawn care, so when he decided to open his own business, Spring-Green was the natural choice. He opted for buying an existing location over starting his own from scratch because he saw a solid opportunity for growth in the local market.
"Buying an existing franchise made sense – it's a strong business that's well-established in the Charlotte area. Plus, the support and assistance Spring-Green's corporate team offers is unparalleled," Chapman said. "I'm excited for the opportunity to expand this already-strong location."
Founded in 1977, Plainfield, Illinois-based Spring-Green Lawn Care has been delivering lawn and tree care services nationwide for over 36 years. Its service is centered on the beautification of residential and commercial customers in middle-class and affluent neighborhoods and communities. Spring-Green is an attractive opportunity for entrepreneurs and existing green industry business owners who want to align themselves with a franchise opportunity that has proven economic resilience, healthy profit margins, industry leading business and marketing intelligence, recurring revenue and retirement & family planning through business ownership. Spring-Green currently has 117 franchises operating in 26 states. Spring-Green Lawn Care franchise owners gave the franchise opportunity a 94 percent overall quality rating, according to the Franchise Research Institute 2011 survey. For more information, visit http://www.springgreenfranchise.com, http://www.spring-greenfranchiseblog.com or follow Spring-Green Franchise on Facebook, Twitter, LinkedIn or Google+.
#####