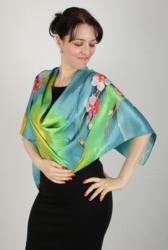 We believe that mothers are special and they deserve more than just store-bought exquisite gifts, and our hand-painted silk scarves bearing a personal touch and inspired by the beauty of Nature would make for the perfect gift for Mother's Day
Burnaby, British Columbia, Canada (PRWEB) April 30, 2013
Leading wearable art retailer WomenClothingToday that has always set a benchmark in quality hand-painted silk scarves, has upped the ante with its latest collection of Spring Silk Scarves. With nature as the muse, the launch comes in time for the upcoming Mother's Day.
Scarves are the perfect accessory to instantly brighten up any outfit, and when inspired by the chameleonic colors of Nature variegated on authentic silk, WomenClothingToday's silk scarves collection is perfect for spring. Add to it the creamy feel of satin luxuriating against the skin, these scarves make for the perfect gift items for wife, mothers, and anyone who is a nature enthusiast.
The brand's artists have hand-painted the design on scarves which is available in an eclectic choice. Nature holds so much beauty that in some or the other way it has always inspired artists of every era. WomenClothingToday's collection of spring silk scarves is inspired by nature and especially spring since it is the most beautiful season- the transition from drab winter to bright summer.
Since the collection is specifically for spring, the artists have particularly used a lot of colors keeping in mind the beautiful colors of individualistic flowers like orchid, magnolia, cherries, and lilies.
WomenClothingToday.com makes use of quality satin silk, which is why their scarves are lightweight and breathable. Considering that each silk scarf is hand painted, customers can be satisfied of owing an original one-piece-only product as there will never be an exact replica of the same.
"We are glad to introduce our line of spring silk scarves around the time of Mother's Day. We believe that mothers are special and they deserve more than just store-bought exquisite gifts, and our hand-painted silk scarves bearing a personal touch and inspired by the beauty of Nature would make for the perfect gift for Mother's Day," said Anda Tudor, Business Manager at WomenClothingToday.com
To add to their limited time discounted price, WomenClothingToday.com is also offering complementary gift wrapping.
About WomenClothingToday.com
WomenClothingToday.com is a family business based in British Columbia, Canada. They employ a talented team of artists and designers, who craft each silk garment they offer by hand. No two silk products from the site are identical, even though the patterns and colors are nearly the same. WomenClothingToday.com offers a 100 percent money-back guarantee on items returned within 30 days.
Contact:
Anda Tudor, Business Manager
anda(at)womenclothingtoday(dot)com