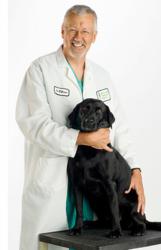 The Comparative Oncology Trial Consortium is limited only by funding. Great science is all around us.
Fort Collins, Colorado (PRWEB) April 30, 2013
By treating dogs with cancer, veterinarians gain important insights into improving treatments for humans, Dr. Stephen Withrow told the Sarcoma Alliance this week.
This has special significance for people with sarcoma because "sarcoma is five times more common in dogs than humans," said Dr. Withrow, DVM, who will speak Friday at the University of Missouri's College of Veterinary Medicine in Columbia.
Sarcoma is a cancer of bone, muscle and other soft tissue that can be very aggressive. "Fighting sarcoma is like slogging through mud. It's not a sprint," he said. "There are no home-runs, but we've made progress."
Dr. Withrow is professor of surgical oncology at Colorado State University in Fort Collins and the founding director of its Flint Animal Cancer Center, the largest such center in the world. He is the only veterinarian admitted as a member of the Musculoskeletal Tumor Society. He also belongs to the Children's Oncology Group.
He said he's proud that he has served as a resource for surgeons who operate on humans. "Physicians are not always aware of what's happening in animal studies, but some have realized we see more sarcoma cases than they do."
Colorado State's veterinary school is one of 20 across the United States and Canada that work with the National Cancer Institute in the Comparative Oncology Trial Consortium, said Dr. Withrow, past president of the Veterinary Cancer Society.
"We can do so much more together than we can as single institutions," he said. "The Comparative Oncology Trial Consortium is limited only by funding. Great science is all around us."
Nine clinical trials have been completed, and two are underway. More than 150 pet owners have participated, and board-certified veterinary oncologists supervise the dogs' care, according to the NCI's Comparative Oncology Program. The goal is to help the dogs as much as possible, and then integrate what is learned into the research of cancer biology and therapy in humans, Dr. Withrow said.
"Along the way, the dog has helped with imaging; the safety and efficacy of chemo delivery; radiation dose responses; and giving chemo in arteries," he said.
Treating dogs with cancer also has been useful in discovering what doesn't work or doesn't work as well as hoped, he said. "We proved hyperthermia had only mild improvement in local control."
Clinical trials for dogs cost less money and give quicker results than those in humans, Dr. Withrow said. "It's money well spent."
The nonprofit Sarcoma Alliance was founded in Mill Valley, Calif., in 1999 to provide information, guidance and support for people with sarcoma. To learn more, go to http://sarcomaalliance.blogspot.com/2013/04/by-treating-dogs-with-cancer.html