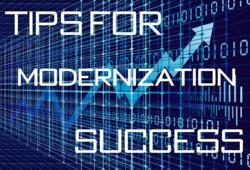 ...modernization can be the most expensive challenge an organization can undertake...
Hartford, CT (PRWEB) April 30, 2013
Modernization can be an overwhelming and risky task for any organization. Technology is constantly changing, making it difficult for businesses to keep up to date. NEOS, a business management and technology consulting firm, offers expert advice on knowing when, what and how to modernize business technologies.
Randy Love, vice president of strategic solutions at NEOS, says "a common misconception when pursuing modernization efforts is to approach modernization as an exercise to go and get the most advanced technologies and update all systems." This urgency influences businesses to create too broad a focus when drafting modernization initiatives. NEOS suggests simple tips that will ease and strengthen the process of technology modernization.
1. Mind the gap. Aligning technology efforts with business needs is a critical first step and emphasizes the need for gap analysis. If the gap between strategic technology direction and business requirements is too large, then the associated costs and risks become hard for most businesses to swallow. Love reminds us that if the risk is too high "sometimes doing nothing can yield the greatest benefit," an option that most neglect.
2. Razor sharp; lightning fast. Prioritization can also help to define the success of modernization efforts. Up-front planning around business products or processes provides the company with valuable information in determining modernization options, such as which platform is most important or which need represents the most risk. Prioritization will enable pointed solutions and practical outcomes at a faster pace.
3. One for all, and all for one. A vital factor that most companies disregard when looking to modernize is synergy across the organization. Without awareness and cooperation from all business divisions and organizations, the commitment to seeing the effort through will waver and ultimately lead to confusion and disaster.
4. Build it and they will come…right? The ability/appetite of the people in an organization to adopt the new, modernized state must be considered from the outset. Most companies short-change this challenge as merely a training issue. In many cases, it's a change in day-to-day business processing, technology and client-facing support.
5. Good things come in small packages. Understanding priorities and business direction helps you create focus. That focus will also help you promote an achievable, incremental road map to your modernized end-state. Make each increment a deliverable, with clear value to the business. The days of $200M, 5 year Big Bang projects are over. Look to budget in smaller chunks that are directly related to value in shorter durations, like three to six months.
NEOS endorses a "holistic" approach to modernization, considering all aspects of operations, including business processes, products, people and technology. Without taking this view, modernization can be the most expensive challenge an organization can undertake, yielding the least amount of business value.
To learn more about NEOS Modernization considerations, take a look at the following NEOS White Papers:

Or visit us at http://www.neosllc.com for more information.