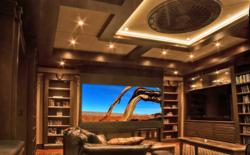 The room is a combination wine bar, library, news room, audiophile quality listening room, and theater.
Atlanta, GA (PRWEB) April 30, 2013
One of the most hallowed spaces of any luxury dwelling is the home library; a space that provides reflection, relaxation and personal growth. Of equal caliber, albeit typically a completely different space, is the dedicated theater or media room that can bring fantasy, comedy and horror to life in theatrical fashion. A recent Cinema Design Group International (CDGi) client wanted to know if it was possible to bring these two spaces together as one and still retain the distinct characteristics of each. By way of a comprehensive upstairs garage remodel, CDGi and Boca Theater and Automation successfully created a regal multi-use space that maximizes the best of both these spaces and more.
Casual entertainment in the room is easily accomplished by way of two 80" televisions. However, when the client desires a more immersive or enriching experience, the room seems to magically convert to a dedicated theater space at the push of an AMX 9000i Modero touch panel. Motorized Lutron black-out shades drop down to control the ambient light. A 130-inch Stewart screen descends from the ceiling into prime viewing position. Simultaneously, a high-performance Digital Projection TITAN Reference projector delivers the captivating content of choice from a Kaleidescape 3U media server. Completing the experience is a Meridian 7.2 surround-sound system. The remarkable room acts as the perfect stage on which spaghetti westerns, film noir classics and today's blockbusters spring to life.
While the project originally started as a dedicated theater, the client, a 'retired' executive, still had a multi-tasking demeanor. Central to the client's wishes was a desire to bring several elements of his lifestyle together in one room. Brad Bergoine, Cinema Design Group International's President, commented, "The room is a combination wine bar, library, news room, audiophile quality listening room, and theater. Listening to the client's feedback was critical in implementing this space."
To ensure all sections of the room blended as a single space, the library portion of the room enlists the dark maple wood used throughout. From a design perspective, the focal point of the room is a fantastic ceiling medallion. The modern media room portion of the room is imbued with technological advances. The front wall is acoustically transparent where needed. Behind the front wall lies a complete rack room in addition to a Meridian front speaker array. In order to remove any sort of industrial elements from the room, the audio/video equipment room is hidden, accessible through a hidden bookshelf door. Says Bergoine, "The client is thoroughly happy with the new space and the daily enjoyment it brings."

About Digital Projection International
Founded in 1989, Digital Projection International (Digital Projection) has been instrumental in the development and application of Digital Light Processing™ technology by Texas Instruments for projection systems. Digital Projection International introduced the world's first 3-chip DLP® projector in 1997, and has since delivered expert system engineering and world-class customer services, thus maintaining its position as a digital imaging pioneer.
Digital Projection International's groundbreaking projection research and development has garnered the admiration of industry professionals around the world. This has earned the company many awards, including two Emmy® Awards for Outstanding Achievement in Engineering Development by the Academy of Television Arts and Sciences. Digital Projection remains the first and only projector manufacturer to win the coveted award.
Today, Digital Projection International manufactures and distributes an extensive line of ultra high-performance 3-chip and single-chip DLP® projection systems. These projectors are the reference standard for demanding applications such as large-venue, live-event staging, fortune 5000, education, medical and scientific research, command and control, digital cinema, commercial entertainment, worship and elite home cinema.