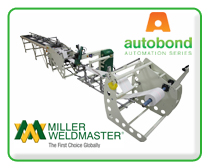 Navarre, OH (PRWEB) April 30, 2013
Miller Weldmaster has once again reaffirmed its international reputation for top-quality customer service and vision in product design and innovation. The manufacturer recently presented at the IDEA show in Miami, Florida, a leading tradeshow internationally for the nonwovens industry. While there, Miller Weldmaster showcased the T300 Filter Line and demonstrated how they meet the production needs of nonwovens manufacturers.
Miller Weldmaster offers several machines for the nonwoven industry. Each of these machines has features designed for improved robust product manufacturing, minimized production time and material set-up with effortless machine operation. The T300 Filter Line unwinds, welds, and cuts filter tubes automatically with precision-controlled parameters. The Filter System can be equipped with an ultrasonic welder allowing the manufacturing of tubes while simultaneously using an ultrasonic welder to close the ends. Furthermore, Miller Weldmaster offers cured-in-place Welding and Sewing Systems to efficiently produce cured-in-place pipelines or rehabilitation tubes.
Miller Weldmaster designs and manufactures machines that are built to meet customers' every production need, manufacturing demand and each and every exact machine specification. The manufacturer also offers services for complete design, prototyping, machine testing, professional installation and skilled training. Most of all, Miller Weldmaster is foremost concerned with the needs of the customer—it is committed to providing world-class customer care and presents solutions to every business demand. The manufacturer's focus on creating the most high-performance machines possible and ensuring that every need of their customers is met, has made it the preferred choice of welding equipment production for multiple industrial fabric manufacturers around the world.
About Miller Weldmaster
Miller Weldmaster, the first choice globally of all industrial fabric welding solutions, has offered rotary hot air, hot wedge and impulse welding equipment to the industrial fabric and thermoplastics industries for forty years. For the fabrication and automation of various products from awnings to truck tarpaulins, to flexible air ducting, Miller Weldmaster has developed many of the first advancements in heat sealing technology. The company's historical record of industrial "firsts" demonstrates its ability to research, design and build solutions using the most current and innovative features of the industry. Having sold machines in over 100 nations around the world, and with distributors in 20 countries, Miller Weldmaster Corporation is a leading international manufacturer and provider of solutions for plastic welding machines with a commitment to customer satisfaction. The company is headquartered in Navarre, Ohio, USA.
###