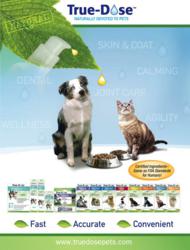 Asia has a much higher population of smaller breed pets, and it is difficult for these smaller breed companion animals to consume tablets.
St. Louis, MO (PRWEB) April 30, 2013
True-Dose is proud to announce record sales for its all-natural pet supplements in international markets. This year, True-Dose has secured their position as the supplement of choice for pet parents in Japan, Korea and Hong Kong.
Herbal medicine has long been incorporated into healthcare throughout Asia, and pet parents seeking all-natural solutions for their pets prefer natural products as well. Markets in Asia have responded well to True-Dose human grade supplements made from all natural ingredients. The True-dose product line includes vitamins, minerals and herbal supplements.
Because the number of pets in Asia far outnumbers household pets in the United States, True-Dose sees the Asian markets as a great opportunity to expand its presence internationally and to provide high-quality products to customers worldwide. Statistics show that International pet markets are growing rapidly.
Euromonitor International published several statistics relative to the pet product market Asia. In Japan, with more than 21 million pets for instance, the number of household pets is now greater than the number of children under the age of 14. It was was noted that Korea was one of the fastest growing pet markets over the last three years, growing 8% in value last year alone. The increased interest in pets also is growing In Hong Kong, with the most popular pet care trends focusing on anti-aging products and pet dietary supplements.
"The pet market in Asia is booming and True-Dose provides the American-made quality difference they need," said True-Dose founder Joe Wayman. "Asia has a much higher population of smaller breed pets, and it is difficult for these smaller breed companion animals to consume tablets. Accuracy in dosing and convenient administration is very important to pet parents in Asia. It is easy for small breeds to consume True-Dose daily on their food, and the results are evident after just a few days."
About True-Dose
True Dose, headquartered in St. Louis, MO, uses a patented system to produce high-quality natural supplements for canines and felines. Their products address joint care, skin and coat care, calming, and dental care. True-Dose supplements are manufactured in human pharmaceutical facilities, following the same strict testing and quality standards mandated by the FDA for state-of-the-art human pharmaceutical product manufacturing. Their raw ingredients are certified and tested to ensure they meet strict quality standards. The founders of True-Dose have long had the goal of providing human-quality, pharmaceutical-grade products to our four-legged friends.
"All of our products are sourced and tested to human standards and manufactured in a pharmaceutical facility," said Joe Wayman, Founder and President of True-Dose. "Our goal with responsible sourcing is to ensure the same quality for pets that we expect for ourselves. Pets have now established themselves as part of the family, often considered to be like one of the children. True-Dose has a mission of better companion animal health with the understanding that pets have a tremendous impact on both the mental and physical health of humans."
True Dose ensures quality ingredients as well as accuracy and ease of dosage. True Dose products have been clinically proven to have a faster absorption rate and higher peak serum/blood concentrations than tablets and chewables. The absorption rate was validated in a head-to-head crossover clinical study conducted by the Oklahoma State University Veterinary Science and Research Departments.
To find out more about Euromonitor statistics visit: http://www.euromonitor.com/pet-products-in-japan/report