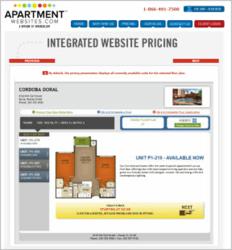 This is amazing. Tiffany Gross, CAM, Business Manager, LPC
Dallas, TX (PRWEB) April 30, 2013
ApartmentWebsites.com has introduced a versatile, dynamic pricing presentation to its list of services. This recent innovation is integrated with revenue management providers to create a seamless price quotation per individual apartment. It is the most proficient, interactive system in the industry. It is also available via mobile phone and iPad/Tablet. Click here for online demonstration. The interactive presentation is available for any website employing revenue management by means of ApartmentWebsites.com's flexible integration.
As anyone knows who has ever tried to find the best price for an airline fare or a hotel booking, knows it is often challenging to review rates generated by an algorithmic pricing matrix; even more so when the shopper is making a long term decision, searching for a place to relocate their living quarters. Within the multifamily housing industry, it can be overwhelming for the leasing staff members as well. Leasing agents have to consider many constantly changing factors to simply quote a rental price.
ApartmentWebsites.com supports features that are singularly refined for ease of use for prospects and users. When apartment seekers view the Spherexx.com algorithmic pricing pages, they can access rates as well as precise and unique features of available apartments in a few clicks.
The apartment shopper first sees a choice of floor plans along with an offer of price and availability information. After selecting information for a particular floor plan, the visitor can view a list of units that are available for their chosen move-in date along with a starting price. They can also change floor plan type and adjust move-in dates. Next, the prospective resident can activate the "next" icon and get specific pricing for an individual apartment based on occupancy date and availability. Click here to see an online demonstration.
Prospects can also change the floor plan, move-in date and term to arrive at other features and prices, or see a listing of the best prices of the day for all floor plans. They can immediately schedule a tour or go directly to completing an application for residency.
Tiffany Gross, CAM, Lincoln Business Manager for The Trails at Lenexa Apartments says, "I am so pleased and relieved to have our new website. I am almost out of apartments to lease and I attribute a huge portion of that success to our Spherexx.com website. The revenue management pricing presentation is just amazing and makes it so much easier for us and our prospects to sail through all the pricing options and find the perfect apartment."
On the subscriber's side, the leasing staff member can view leasing information on an iPad/Tablet, or laptop (using Spherexx.com's SweetSpotDashboard application) as well as on their desktop computer. They can navigate quickly to query location, feature, and pricing information for their prospect, thus having greater opportunity for customer service as opposed to spending valuable face time struggling through a maze of pricing options.
Recent research indicates that revenue management is being used by 20% of the multifamily market. There is little doubt that it will soon become a standard service provided by professional management companies.
About ApartmentWebsites.com div Spherexx.com ®
ApartmentWebsites.com provides web development, mobile websites, and online marketing designed specifically for the apartment industry. Since 2000, ApartmentWebsites has developed hundreds of apartment websites with unique experience and resources. Services include virtual tours, photo galleries, interactive floor planners, interactive online brochures, interactive site plans and availability, resident services and countless other features. ApartmentWebsites is also designed to incorporate advanced leasing, prospect management, and market data analysis tools. Each of the products work together with ApartmentWebsites.com to increase product value, serve residents and assist the leasing team in closing more leads in less time. Pricing packages allow clients to select optional features and set budget priorities.
Spherexx.com is recognized as an established leader in the apartment industry website, Internet marketing and software development services. With offices located in Tulsa, Dallas, Austin, and Houston, the company has been distinguished as one of INC5000's fastest growing companies. Spherexx.com is a recipient of the International Summit Creative Award 2012 for creative and communication excellence and the Internet Advertising Competition award for best real estate website, and is a Webby Honoree.
Spherexx.com offers a wide selection of professional services including web design and development, touch-screen kiosks, Internet lead generation tools, online advertising, apartment leasing consulting, advanced mobile technology, apartment lease-up marketing consulting, and search engine performance. The company also provides branding services, video/multimedia production, print media, and copywriting as well as website and email hosting, database solutions, pay per click, e-commerce solutions and custom programming.
The company has developed CRM (customer relationship management) products, marketing and lead generation tools that allow clients to better manage and convert leads to leases and sales. These applications are branded under Messagekast.com, ILoveLeasing.com, MarketSurveyTools.com, and RentPush.com. Spherexx.com provides web-based prospecting, marketing, advertising management, and support services.
Spherexx.com has provided services to innovative real estate companies like Lincoln Property Company, Atlantic Pacific Companies, Bozzuto, Denison Development, Trio Properties LLC, Graham Residential, ZRS Management, LLC and Perry Reid Properties. The company represents over one hundred years of direct, executive level property management experience that readily identifies with the challenges and solutions of multi-family property management professionals.