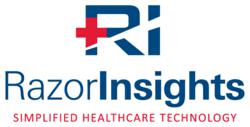 Kennesaw, Georgia (PRWEB) April 30, 2013
Louisiana Specialty Hospital (d/b/a Louisiana Continuing Care Hospital), a 56-bed long-term acute care hospital located in Marrero, Louisiana, is enhancing the care it provides to its patients by implementing ONE-Electronic Health Record from RazorInsights, a leading provider of healthcare information technology solutions for rural, critical access and community hospitals.
Through the adoption of ONE–Electronic Health Record, Louisiana Specialty Hospital will be able to transition to a more efficient and safer clinical environment. An ONC-ATCB certified solution, ONE provides hospitals with a truly integrated, non-modular EHR residing on a single integrated database. Its robust pharmacy capabilities were an integral part of Louisiana Specialty's selection process. Other crucial factors to hospital management were an agile, fast implementation time along with the light burden on the hospital's staff due to the RazorInsights team performing the build.
"Deploying ONE at our facility will be especially helpful in moving us into a paperless environment," remarked Jimmy Morgan, CEO of Louisiana Specialty Hospital. "We had a goal of moving to an Electronic Health Record at some point down the road; however, when we learned about how easy ONE-EHR was to purchase, install and maintain, we decided to go ahead now. RazorInsights is head and shoulders above the rest of the vendors we researched, and they bend over backward to accommodate our specialized needs."
The intuitive design of RazorInsights' ONE solution allows administrators and clinicians with limited technical skills to quickly transition to the new system, and its innovative use of cloud technology results in seamless upgrades. Hospitals using the scalable solution simply maintain a low, all-inclusive monthly subscription with RazorInsights, alleviating the need to purchase and maintain a server and eliminating the purchase of a software license.
"We are very excited to have Louisiana Specialty Hospital choose ONE to better the overall quality of care for their community," explained Reed Liggin, co-founder and CEO of RazorInsights. "Our intuitive, single-database solution will jumpstart their ability to move to an electronic environment and also give them the advanced pharmacy solutions they need. We look forward to fostering our mutually beneficial partnership."
About Louisiana Specialty Hospital:
Located in Marrero, Louisiana, Louisiana Specialty Hospital (d/b/a Louisiana Continuing Care Hospital) is a 56-bed long-term acute care hospital serving the residents of Marrero and the surrounding area. Some of the services provided include: Nursing, Laboratory, Radiology, Respiratory, Dietary and Physical Therapy. For more information regarding Louisiana Specialty Hospital, call (504) 349-2470.
About RazorInsights:
Based in Kennesaw, Georgia (in the metro Atlanta area), RazorInsights is a new, dynamic healthcare information technology company. In keeping with the principle of Occam's Razor, the company has created a simplified HIS solution for rural and critical access hospitals - ONE (ONC-ATCB 2011/2012), a single-database cloud solution offering a simple user experience with cutting-edge clinical tools and industry-standardized data. Hospitals can expect to improve their performance and bottom line with ONE from RazorInsights. For more information, visit http://www.razorinsights.com or call 770-308-4111.