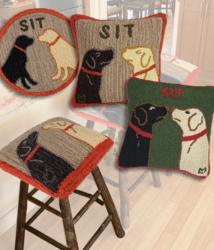 Manchester Center, VT (PRWEB) April 30, 2013
Chandler 4 Corners has a new trio of stools that make perfect Mother's Day gifts, especially if Mom is a dog lover! Based on their popular "SIT" pillow, designed by Laura Megroz, the new stools come in three different heights—so Mom can sit at the kitchen counter, perch at a bar, or rest her feet on it. The design features a black Lab and a yellow Lab facing each other with the word "SIT" between them. With the hand-hooked wool design on the top of one of the Amish-made stools, it becomes both a charming invitation and a cute command.
The SIT stools are a new addition to the popular line of accent furniture at C4C that includes stools and two sizes of benches. The stool bases are made of rough bark hickory by Amish craftsmen, and come in three color choices. The top of each bench or stool is hand-hooked wool in one of Chandler's distinctive designs.
In addition to the new stools and pillows, the SIT design is also on chair pads, which might be another option for Mother's Day. Chair pads around the kitchen table invite guests to linger; and they pair perfectly, with a wink and a smile, with the "STAY" chair pads.
Chandler 4 Corners has been offering fine pillows, rugs and household accents since 1995. Based in Manchester Center, VT the company sells to retail shops, leading catalogs, and individuals across the country. Chandler 4 Corners hand-hooked products are made of pure wool in natural colorways that suit any home decor. To order any of the SIT products in time for Mother's Day or for more information, visit the website at chandler4corners.com.