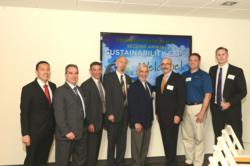 "We are in a unique position to educate our employees, building staff and board members on the benefits – both in terms of cost reduction and environmental impact – of sustainable building systems and practices," says David Kuperberg, CEO of Cooper Square
NEW YORK (PRWEB) April 30, 2013
Cooper Square Realty, the New York subsidiary of FirstService Residential Management, hosted its second annual Sustainability Expo on Monday, April 22 to commemorate Earth Day. The theme of the day's events was the benefits of sustainable building systems and practices for reducing energy use, operating costs, and environmental impact, while increasing the value of a property and improving residents' quality of life.
As the city's largest residential management company, Cooper Square Realty is responsible for guiding decisions that impact more than 75 million sq. ft. of residential real estate. "We are in a unique position to educate our employees, building staff and board members on the benefits – both in terms of cost reduction and environmental impact – of sustainable building systems and practices," says David Kuperberg, CEO of Cooper Square Realty. "By providing this platform for increased collaboration and awareness, we are presenting critical knowledge that will help to 'green' the 500-plus properties managed by Cooper Square Realty."
The event was held in two sessions. In the morning, more than 300 building superintendents, resident managers and property managers attended seminars on topics including New York City's updated Energy Conservation Code, combined heat and power systems, emergency preparedness, incentives and rebates from Con Edison, heat timer controls, energy efficient, cost effective HVAC systems, and a tree care workshop.
Cooper Square Realty's newly-upgraded Learning Center played host to demonstrations on control systems and cogeneration. In addition, the company's project management subsidiary, FS Project Management, showcased the ecological, technical and economic benefits of green, cool and solar roofs.
Demonstrations by nearly 30 suppliers covered a spectrum of goods, services, and technologies addressing sustainability. Featured services ranged from environmentally friendly cleaning products and supplies, water management, and dry cleaning, to efficient lighting, heating controls and pest extermination. Also presented were available energy rebates and incentives, clean fuels, cool roofs, disaster planning, landscaping, car sharing, and Re-fashioNYC, a clothing recycling partnership with the City of New York.
The evening event featured an expert panel discussion exclusively for co-op and condominium board presidents on "Energy Efficiency and Sustainability: How Your Property Can Benefit from New York City Regulations." Board members were presented with practical solutions that illustrate how compliance with New York City Local Laws and regulations can, in fact, provide economically positive results.
The panel comprised Michael Colgrove, Director of Energy Programs, New York State Energy Research & Development Authority; Richard Leigh, Director of Research at the Urban Green Council; John Lee, Deputy Director for Green Buildings and Energy Efficiency, NYC Mayor's Office of Long-Term Planning & Sustainability; William C. Ragals, Jr., former energy attorney and Board President of The Strand Condominium; and Howard L. Zimmerman, President, H.L. Zimmerman Architects.
Chris De Weaver, Energy Efficiency Expert and Clean Tech Leader of FS Energy, served as panel moderator. FS Energy is the FirstService Residential subsidiary that advises clients of ways to reduce energy consumption, costs and emissions.
Nearly $2,500 was raised through the purchase of homegrown herbs and plants at the expo. Proceeds will benefit MillionTreesNYC, a public-private program which aims to plant and care for one million new trees across the five boroughs over the next decade. "We are thrilled to be able to contribute these funds to MillionTreesNYC to help reach this important goal for our city," adds Kuperberg. The program is part of Mayor Bloomberg's comprehensive plan to build a greener, greater New York.
ABOUT COOPER SQUARE REALTY
Cooper Square Realty is the premier residential property management company in New York City and also offers project management and energy management services. Cooper Square's portfolio comprises upwards of 500 condominiums, cooperatives, and rental properties with an aggregate value of over $6 billion. The company manages more than 70,000 residences that are home to more than 200,000 people. These include distinctive lifestyle properties such as The Plaza Residences, luxury residential towers such as New York by Gehry, new developments, prewar landmark buildings, and apartment complexes. Further information is available at http://www.coopersquare.com.
Cooper Square Realty is a subsidiary of FirstService Residential Management (FSR). FSR is the largest manager of residential communities in North America, overseeing more than 6,000 properties and over 1.5 million residential units.