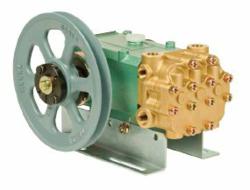 This partnership makes it easy for thousands of PumpScout users to get quotes from a leading plunger and triplex pump supplier - Arimitsu.
Tacoma, Wash. (PRWEB) April 30, 2013
PumpScout has partnered with Arimitsu of North America, a Minnesota based pump company. Arimitsu Industry Japan is a global recognized manufacturer of industrial triplex plunger pumps.
"This partnership makes it easy for thousands of pump buyers using PumpScout.com to get product quotes from one of the country's leading plunger and triplex pump suppliers," says Justin J. Johnson, CEO and co-founder of PumpScout.
PumpScout.com helps buyers determine the type of pump they need for their job and then connects those buyers with pump suppliers for product quotes. The website has partnered with more than two dozen pump suppliers, whose products serve a range of industries and applications.
Arimitsu triplex and plunger pumps are used for carwashes and industrial markets including pressure washing and misting applications. The pumps offer users several benefits, including higher pressure, compact design, low maintenance costs, and lower energy consumption. They have a flow capacity of up to 392 gpm and can handle pressures of up to 24,000 psi.
The standard features of the company's signature carwash and industrial pumps include stainless steel valves, oversized crankshaft bearings, precision ground ceramic plungers, and forged brass heads. The pumps are globally recognized for efficiency and quiet operation.
Gary Geiken, Marketing Director at Arimitsu of North America, says that the company is excited to not only to partner with PumpScout.com, but also to introduce their products to the numerous potential buyers who use the website to source pumps.
"We are excited about this partnership," he says. "We're anticipating new opportunities and sales leads for single pump units and larger OEM projects."
About PumpScout.com
PumpScout.com is the pump buyer's single source for pump supplier and consumer information, tools, and tips on buying and maintaining all kinds of industrial pumps. The website features a powerful quote system allowing buyers to get price quotes – fast and free. For more information, visit PumpScout.com.
About Arimitsu of North America
Arimitsu provides proven, industry leading plunger pumps for a variety of applications including Carwash, Industrial, Misting and Carpet / Upholstery Cleaning. With lower energy consumption pumps that provide higher pressure, quieter equipment rooms, and fewer repairs, you can't go wrong with Arimitsu Plunger Pumps. For more information, visit ArimitsuPumps.com.