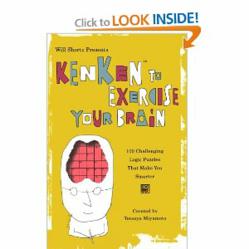 "I do crossword puzzles, sudoku and KenKen every morning after reading the newspaper". Dr. Gary Small, Director of UCLA Longevity Center
Pleasantville, NY (PRWEB) April 30, 2013
Studies have shown that "mental aerobics," such as solving KenKen puzzles, sudoku and crosswords, can minimize the risk of developing Alzheimer's and other neurodegenerative diseases.
A recent study on the prevention of decreased cognition published this month in the Canadian Medical Association Journal found that regular intake of vitamins, herbal supplements, and prescription medications does not reduce the risk of declining cognitive health among healthy adults over age 65.
The team of researchers reviewed 32 separate brain function trials involving about 25,000 patients. Based on trial results, they concluded that mental exercise in the form of a regular 'brain-teaser' puzzle is the only proven method to boost brainpower as you age.
Lead author Dr. Raza Naqvi from the division of geriatric medicine at the University of Toronto, Canada, explained that only mental training - for which there were three studies - yielded positive results every time. In their work, researchers encouraged seniors to consider easily accessible tools such as engaging math puzzles like KenKen, crosswords and sudoku to help ward off decreased brain function due to aging. KenKen and the other puzzles can be found in hundreds of local newspapers, including the New York Times, the LA Times and the Boston Globe, and can be played daily at numerous online sites, including http://www.kenken.com.
Dr. Gary Small, director of the UCLA Longevity Center at the Semel Institute for Neuroscience and Human Behavior and the Parlow-Solomon Professor on Aging at the David Geffen School of Medicine, has been studying Alzheimer's for more than two decades and has shared his findings in several bestselling books and frequent media appearances. He too believes that seniors, and those approaching their golden years, should engage in mental and memory exercises to help decrease the likelihood of developing Alzheimer's. Dr. Small even practices what he preaches. When asked what he does to ward off Alzheimer's, he responded "I do crossword puzzles, sudoku and KenKen every morning after reading the newspaper...It's best to train, but not strain, your brain."
About KenKen
KenKen® logic and math puzzles were first invented in Japan by Tetsuya Miyamoto, promoted as "Kashikoku Naru Puzzle" or the "Makes You Smarter" puzzle, and introduced to the rest of world by Nextoy, LLC. With the main goal to improve students' cognitive abilities in mind, he developed a brain stimulating exercise that would be understandable, fun and challenging for students of all levels. As it turns out, the same puzzles have been shown to be fun for adults, addictive to game players, and to improve cognitive function in aging adults as well. Today, Mr. Miyomoto's vision seems to have become a reality.
Nextoy, LLC was established in 1981, bringing original and innovative toy and game ideas to the market.