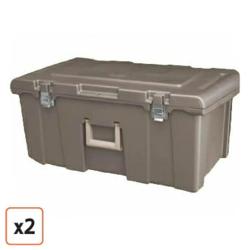 We're also able to access excellent metrics about the usage of each video so we can tell how much of each video customers are watching, or where they might drop off.
Urbana, IA (PRWEB) April 30, 2013
Although JustPlasticBoxes.com is still a relatively new internet retailer, it's using one of the most popular and effective platforms for communicating product features to customers: video.
Launched in September 2012 by parent company Clickstop, JustPlasticBoxes was created as a spin-off of the company's organization website, SpaceSavers.com. The website sells only popular plastic storage boxes from well-known brands like Sterilite® and IRIS® in bulk quantities and wholesale prices. Its customer base ranges from individuals to large organizations like universities and hospitals in need of economical storage solutions.
From the beginning, the company used videos as a way to showcase the size and potential uses of the plastic boxes. The short videos were uploaded to video marketing platform, Wistia, and the link added to both product pages and category pages on the website.
Currently the top views on the JustPlasticBoxes website include videos for a popular Sterilite footlocker and an underbed storage with wheels. Plastic craft storage containers videos are also consistently ranking well with customers.
Kati Davis, Search Engine Marketing Specialist for Clickstop, says video marketing is not only helpful to customers, it's also extremely beneficial to the company for several reasons.
"Wistia is a particularly good platform for video because the videos are live on our own pages instead of taking the customer to a third party site like YouTube, where a competitor's video may be right next to our own," said Davis.
"With Wisita, we're also able to access excellent metrics about the usage of each video so we can tell how much of each video customers are watching, or where they might drop off; it gives us a better idea of how long to make each video and the topics our customers are finding most helpful."
Additionally, video sitemaps can be created which enables search engines like Google to read the content from the video and place the video in search results. Clickable calls to action can also be created at the end of a video to present a message or even direct a customer to a specific page. Wisita also has the ability to integrate with a company's social media platforms like Facebook, Wordpress and Twitter for easy video sharing, something Davis says the company is planning to pursue later this year.
Now with over 100 product videos, the company has begun to create purchasing and marketing plans based on the metrics the videos are creating.
"It's interesting to see which videos are garnering more attention and it makes it easier for us to move forward with new ideas," said Davis. "It's especially rewarding because we know the customer is benefiting from the videos as well by gaining more product information before purchasing."
###
About JustPlasticBoxes.com
JustPlasticBoxes is owned by Clickstop, Inc., an online retailer of niche brands in several different categories. Websites under the Clickstop company umbrella also include SpaceSavers.com, BellyBling.net, USCargoControl.com and EcoFoil.com. With strong vendor relationships from Clickstop's large e-commerce presence, JustPlasticBoxes is proud to offer high quality brand name plastic storage boxes at value prices with free delivery.